We aim for employees to be able to enjoy sustainable growth alongside the company. Since we consider people the company's most important asset, we are advancing various human resource initiatives. Specifically, we strive to foster the type of environment in which employees find work to be fulfilling. To achieve this, we must have a fair and equitable human resource management system that nurtures individual development and an environment in which a diverse and multifaceted group of people can play active roles.
Our HR system
To foster a consistently fair and equitable system that builds a sense of unity, and to maintain and secure people who can promote overall sustainable growth, in April 2018, the CCBJI Group introduced an HR system that is integrated across the Group in terms of job grades, performance evaluations, compensation, and benefits.
Based on the corporate philosophy of THE ROUTE and the elements that comprise the Group's direction—Growth-oriented; One Company under One Management; and Overall Optimization—the Group set forth a basic policy pertaining to the HR system.
In accordance with role-based and results-oriented thinking, we increase the motivation of employees along with promoting the growth of the organization and individuals. Also, we offer employee benefit programs aimed at enabling employees to work continuously throughout their careers without worry or anxiety.
HR system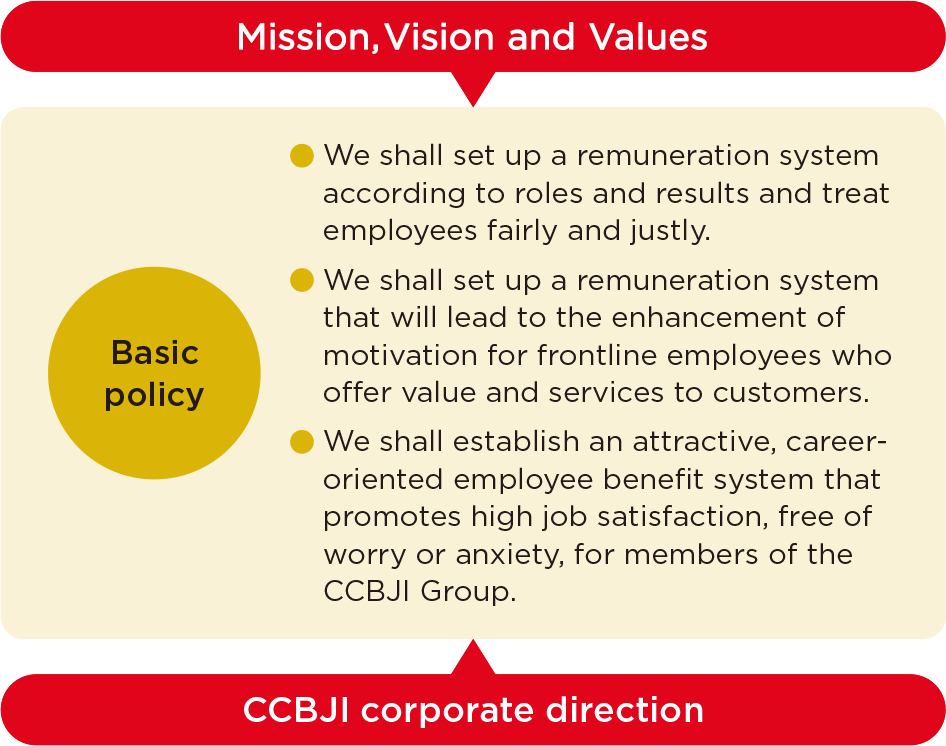 Human resources development —career advancement
Largely dividing the nurturing of employees into cross-organizational training (obtaining skills and knowledge that fits the employee's growth and career steps) and specialized training (obtaining skills and knowledge for executing the respective department's work), each department plans and executes training programs aligned with the department's theme. In terms of educational methods, CCBJI Group provides 1) group training directed at improving the skills and knowledge of attendees; 2) on-the-job training (OJT) support for immediate supervisors who play a key part in nurturing employees; and 3) an environment for self-study (self-enlightenment) where individuals can study under their own conditions.
Human resources development —career advancement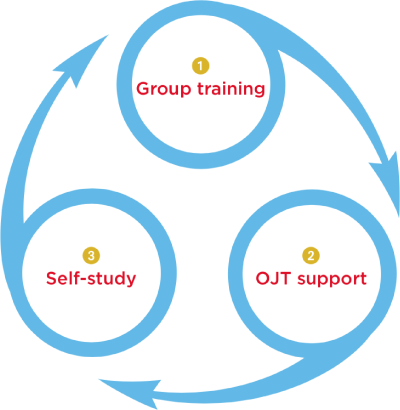 Human resources development —performance evaluation system
The CCBJI Group performance evaluation system has the twin purposes of improving business results and developing employees. The system is built upon evaluating work-related results and assessing whether daily conduct matches what is expected of a CCBJI Group employee. In order to evaluate each employee's performance properly and to ensure that he or she understands that evaluation, each employee has discussions regularly with a supervisor throughout the year.
As employees consistently demonstrate skilled performance, the company will reward them appropriately.
Human resources development —performance evaluation system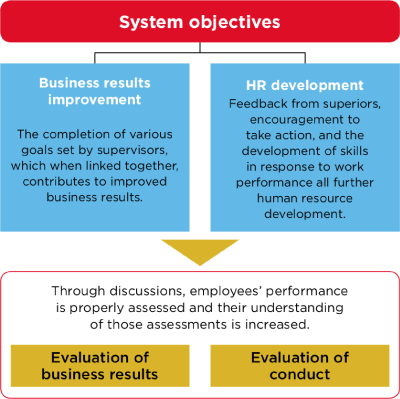 Human rights initiatives
Respect for human rights is a foundation of our business activities. Accordingly, we have established a human rights policy for realizing the sustainability of local communities where we conduct business. In order that respect for human rights is thoroughly and consistently put into practice, we are carrying out an aggressive awareness campaign on the variety of issues. This campaign consists of training at the individual level, e-learning, and information-sharing through the company's internal network, in order to deepen understanding toward respecting human rights. We aim to build a sound and dynamic work environment where employees are trained to think of human rights issues on a personal level, to be considerate of others, and to always think about other perspectives before taking any actions.
Human rights initiatives
The CCBJH Group respects every employee's human rights and individuality and places high importance on continuing to innovate by proactively including many different kinds of values and ideas through aggressive initiatives that promote diversity.
Human rights initiatives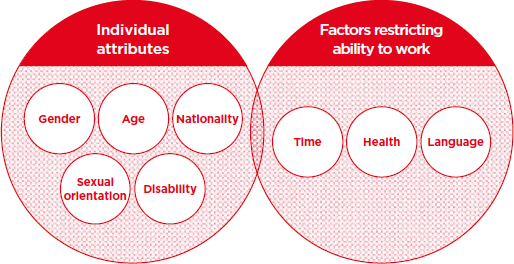 Basic philosophy
Through promoting diversity, while encouraging a variety of viewpoints and the constructive exchange of ideas, the CCBJH Group aims to become a company that functions with excellence and dignity.
Medium- to long-term vision
The CCBJH Group respects the individuality of each and every employee. We offer opportunities for all employees to realize their full potential regardless of sex, age, the presence of disabilities, nationality, sexual orientation, gender identification and other attributes. This engenders innovation and reform, leads to the creation of value, and contributes to becoming a strongly competitive company that functions with excellence and dignity.
Our policy for initiatives through 2020
Based on the respect for human rights, our activities will focus on expanding opportunities for women and people with disabilities.
Women in active roles
One characteristic of our diversity initiatives is to encourage women to play active roles. Our aim is for women employees to be active in all areas in the company and that a diversity of values and perspectives be reflected in all of our business activity.
People with disabilities in active roles
People with disabilities in active roles
Occupational safety and health initiatives
Based on the philosophy that "health and safety come first," the CCBJI Group believes that the backbone of its business continuity is to protect the safety and health of all employees and fulfill its corporate social responsibility. The Group will create and cultivate a corporate culture of safety based upon mutual trust and always putting principles into practice.
Prevention of occupational injuries and vehicle accidents
In order to prevent emergencies and accidents, we will take actions based on the key phrases "eliminating unsafe behavior" and "eradicating unsafe situations." We will improve overall safety awareness at the workplace and inform every employee of safe behaviors and safe driving practices, and work toward zero emergencies and zero accidents at each workplace.
Work style reform
The CCBJI Group seeks to increase the skills of its employees and, by raising productivity and the quality of work, help its employees realize work-life balance. In order to achieve a workplace where employees can thrive and stay healthy, we actively engage in work style reform. Specifically, we have put in place a flextime system for working hours and are introducing a variety of work styles that are not restricted by location, allowing employees to work at home or in a satellite office. This is combined with a work/break interval structure that ensures a certain amount of break time after a set amount of work is finished, as well as efforts to reform corporate culture across the Group to encourage employees to leave the office on time or to take annual leave.
Various systems or policies put in place (or planned) by the CCBJI Group
●Flextime system
●Coming straight to or returning home from a third-party location
●Working at home or a satellite office
●No-overtime day
●Work/break interval structure
Employee data (as of December 31, 2017)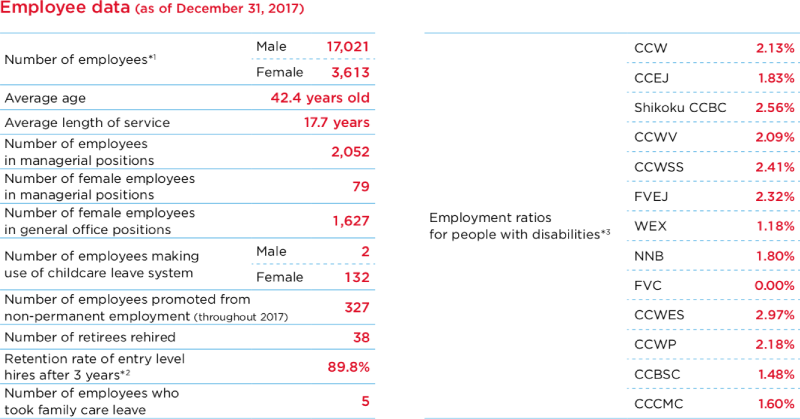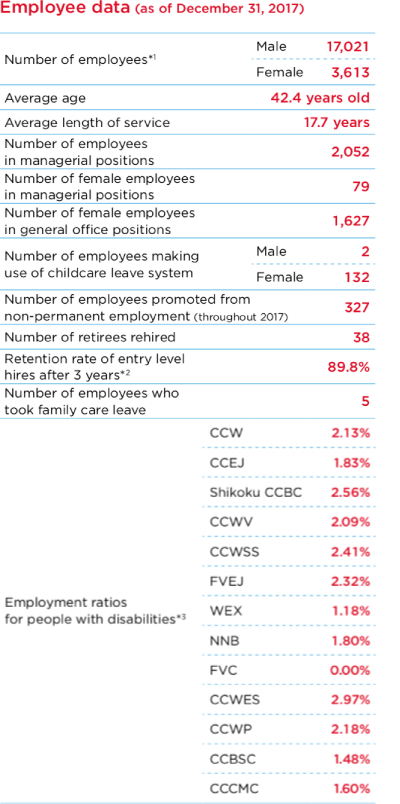 *1 This number includes employees at all levels, except temporary employees and interns, etc.
*2 This percentage is obtained from the ratio of employees still employed at the end of 2017 out of all those newly hired in 2015.
*3 The employment ratios for people with disabilities are for fiscal 2017 from each pre-merger company and based on each "Employment Status Report for Persons with Disabilities" (June 1, 2017) submitted to the Director of the Public Employment Security Office in the jurisdiction of each former company. The names of the former companies are as follows: CCW: Coca-Cola West Co., Ltd.; CCEJ: Coca-Cola East Japan Co., Ltd.; Shikoku CCBC: Shikoku Coca-Cola Bottling Co., Ltd.;CCWV: Coca-Cola West Vending Co., Ltd.; CCWSS: Coca-Cola West Sales Support Co., Ltd.; FVEJ: FV East Japan Co., Ltd.; WEX: WEXX Co., Ltd.;NNB: Nishi-Nihon Beverage Co., Ltd.; FVC: FV Corporation Ltd.; CCWES: Coca-Cola West Sales Equipment Service Co., Ltd.;CCWP: Coca-Cola West Products Co., Ltd.; CCBSC: Coca-Cola Business Sourcing Co., Ltd.; CCCMC: Coca-Cola Customer Marketing Co., Ltd.