MOCKTAILS menu using Coca-Cola products
Aside from the usual straight soft drink, mixed drinks taking advantage of soft drinks are now delivered, and we see more freedom in the way soft drinks are enjoyed. We'd like to go one step further to introduce "mocktails" that can be enjoyed by those that cannot drink or that are driving.

Mocktails became popular in London and is a neologism of the words "mock" and "cocktail", referring to non-alcohol cocktails.

From a vast menu of mocktails, we will suggest the best recipes for your establishment to contribute to higher sales.
Why not give it a try?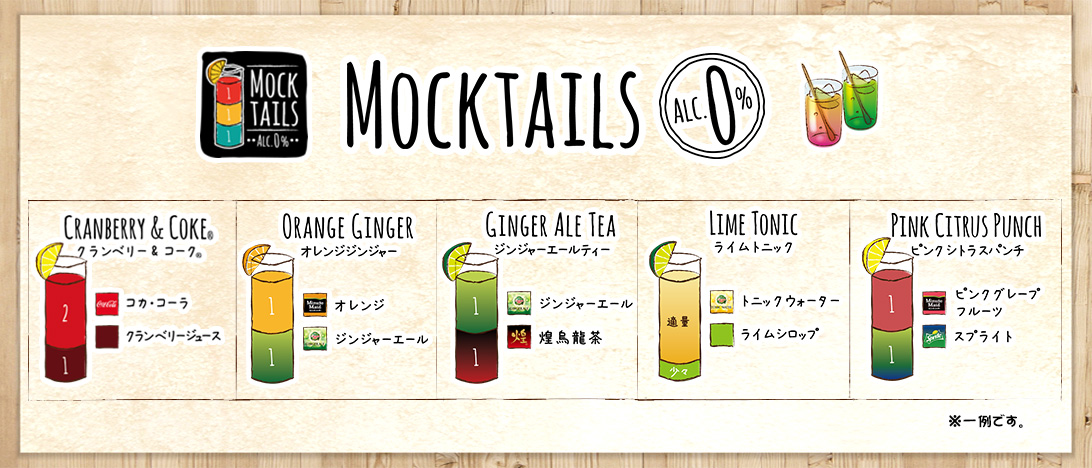 Support for your establishment
Coca-Cola Bottlers Japan provides extensive support to our customers, creating a rich assortment of menus that provide different ways of enjoying a drink and that help to increase sales.

We propose appropriate mixed drinks to meet the store's concept, diverse base and needs, and promote a proposal-based sales to lead up to improving profit and increasing customer attraction effect. We have stylish and efficient cooling equipment, extensive POP material such as posters and table menus, and we will introduce you to various promotions that can be launched throughout the year.