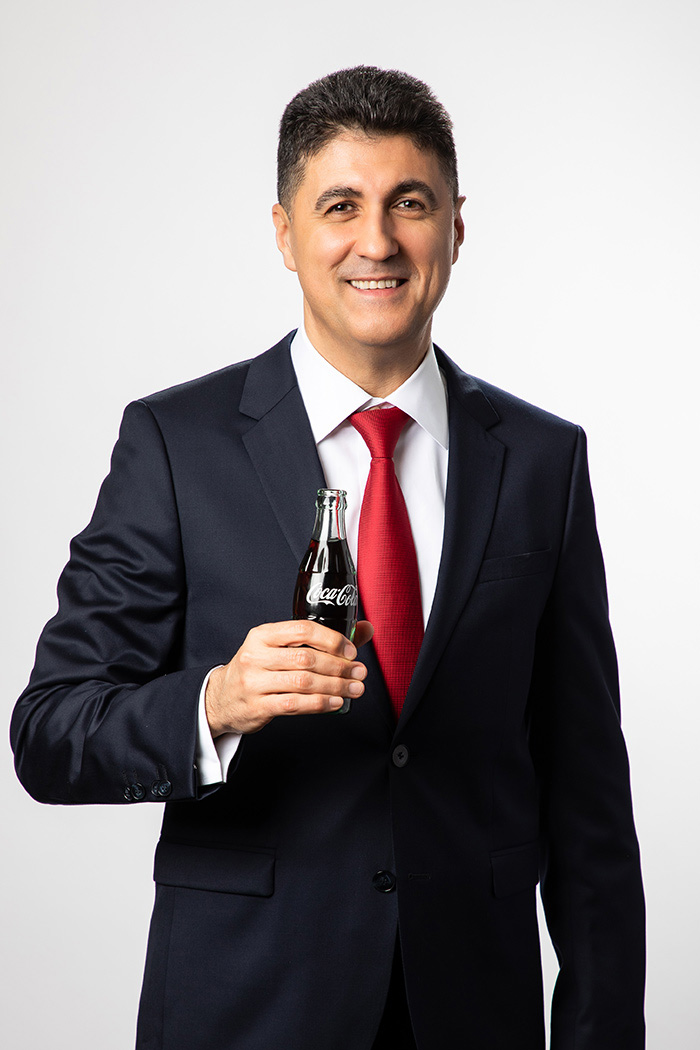 Hello, I'm Calin Dragan.
I feel deeply honored to speak to you as the Representative Director and President of Coca-Cola Bottlers Japan Inc.(CCBJI), the new roles I officially assumed on March 26, 2019. At the same time, I am excited to connect with you once again through the Coca-Cola business in Japan, the country I call my second home.
As a bottling company that manufactures and sells Coca-Cola branded products, CCBJI produces and supplies approximately 90% of the Coca-Cola system's products in Japan to serve the needs of our customers and consumers spread widely across Tokyo, Osaka, Kyoto, and 35 additional prefectures, spanning from Miyagi in the east all the way to Kagoshima in the west.In terms of sales revenue, CCBJI is not only the largest Coca-Cola bottling company in all of Asia, but is also one of the leading players representing a total of over 250 bottlers operating around the world.
CCBJI engages in business activities through a "community-based" approach and with a "customer-centric" mindset that have been long established as the guiding principle of pursuing the bottling business in Japan that now runs over 60 years. Since its inception in April 1, 2017, CCBJI has been pushing forward the integration of organizations and business operations with speed to respond to the fast-changing market environment and the diversifying needs of our customers and consumers.
To further accelerate this process, along with the speed of decision-making and execution of various initiatives, the organization and management have been restructured this year under the fresh leadership of a newly-formed executive management team.This team is eager to continue meeting the expectations of our shareholders and investors by increasing the return of profits and enhancing the corporate value through the realization of sustainable business growth.
By bringing together the wealth of knowledge, expertise and experience found here and abroad, and by utilizing them to devise and execute effective sales plans that are finely tuned to best suit the varying characteristics of consumers and customers, as well as to continue improving the productivity of manufacturing and supply chain operations, I will push CCBJI forward in its journey to expand the Coca-Cola business and intensify its leadership in the Japanese beverage market for the development and well-being of the entire industry.
As a total beverage company that delivers happy, refreshing moments every day, and in every occasion to enrich the lives of everyone in the community, CCBJI intends to continue providing high added-value to all its stakeholders, including customers, consumers, shareholders, local communities and its own employees.