CCBJI Recognized as "Sports Yell Company 2022"
Jan 26, 2022
Coca-Cola Bottlers Japan Inc.
Coca-Cola Bottlers Japan Inc. (Headquarters in Minato-ku, Tokyo; Representative Director, President and CEO Calin Dragan) was certified as a "Sports Yell Company 2022."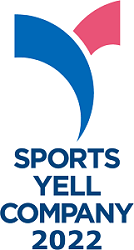 The Japan Sports Agency has been encouraging the generation of prime-age workers to do sports, and certifying companies actively taking initiatives to improve their employees' health through sports as a "Sports Yell Company" with the aim of creating social momentum toward sports. This is the third year in a row that our company has been certified.
We see promoting the maintenance and improvement of our employees' health as one of our key management imperatives and are committed to health management. As an initiative, we have been continuously holding the Sawayaka Walk, an in-house walking event aimed at supporting the activities of our in-house sports clubs and helping our employees incorporate moderate exercise into their daily habits.
Through the consistent efforts to help the employees maintain and promote their health, Coca-Cola Bottlers Japan intends to continue providing high-quality products and value-added services as a total beverage company committed to enrich people's daily lives by delivering happy moments at every occasion available.
■"Sports Yell Company 2022" Certification System
https://www.mext.go.jp/sports/b_menu/houdou/jsa_00095.html

■About Coca-Cola Bottlers Japan's health management
https://en.ccbji.co.jp/csv/humanrights/health.php
■About Coca-Cola Bottlers Japan's "Sawayaka Walk"
https://www.ccbji.co.jp/news/detail.php?id=1117