What we can do through our core business


Expanding donations to Food Bank organizations to support local communities
-Donating beverages to Chubu Zen'i Bank in Aichi Prefecture-
Since 2016, Coca-Cola Bottlers Japan Inc. has partnered with Second Harvest Japan (a member of Alliance of Japan Food Banks), which is Japan's first Food Bank organization, and the All-Japan Food Bank Association to donate our products. We delivered our beverages to local "children's cafeterias" and "various welfare facilities" through 22 Food Bank organizations throughout Japan so that they can be of effective use.
We are taking every possible approach in response to the ever-changing social environment amid the recent spread of COVID-19, with the top priority on the health of all stakeholders.
Under such circumstances, schools have closed, events are canceled, and many people are asked to work from home. The changes in our lifestyles in order to reduce contact with people can have a significant effect on children's lives. In order to extend our support to the healthy growth of children, we have begun making donations of our products. We have donated approximately 4,153 cases (76,422 individual beverages) to facilities such as children's cafeterias and children's centers via 16 Food Bank organizations in 11 prefectures out of 38 prefectures in our sales territory.
In Aichi Prefecture, a donation was made to Chubu Zen'i Bank
In Aichi Prefecture, on April 27 (Mon.), our products were donated to Social Welfare Corporation, Chubu Zen'i Bank (Nagoya City, Aichi Prefecture).
"We really appreciate your support. They would be helpful in this season as the temperature is getting higher. We will effectively utilize them for facilities in Aichi Prefecture," commented Managing Director Suzuki of Chubu Zen'i Bank.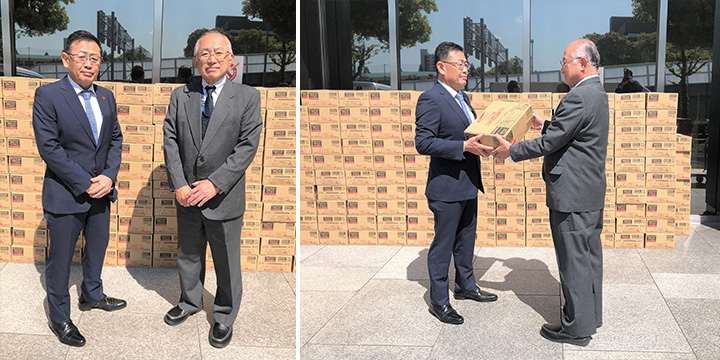 (Right) Managing Director Osaaki Suzuki, Social Welfare Corporation, Chubu Zen'i Bank
(Left) Aichi Retail Sales Dept. Head Terumasa Takeno, Central Japan Area Sales, CCBJI
Our products were distributed to all of the 35 group homes for children as well as welfare facilities for the elderly in Aichi Prefecture through Chubu Zen'i Bank.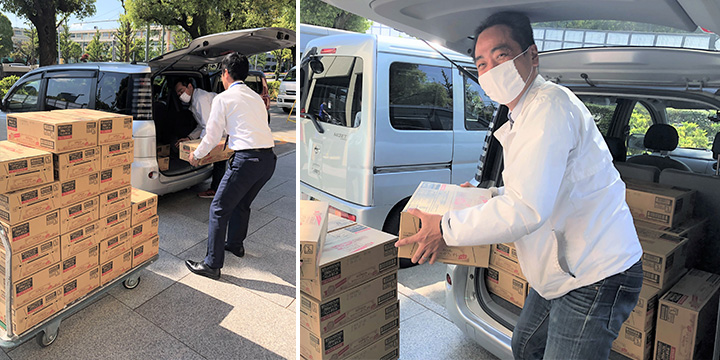 CCBJI's product donations to social welfare facilities and children's cafeterias via Food Banks
Food Banks are organizations where stocks of food, typically basic provisions and non-perishable items, are supplied free of charge to people in need. The Food Loss Reduction Promotion Act was enacted last year in Japan, and the activities of Food Banks are attracting more attention.
The number of children's cafeterias is increasing due to changes in the home environment. Children's cafeterias provide opportunities for children from different backgrounds and experiences to eat together, interact with others and receive instruction on proper nutrition. In addition they contribute to the development of a society that respects diversity. CCBJI actively supports these programs in the hope that our donations will help reduce food loss and contribute to resolving challenges in local communities.