First in Oita! Saiki-city Council of Social Welfare Fundraising Vending Machines Installed Unveiling ceremony held for the first machine on April 23
Apr. 24,2019
News Release
April 24, 2019
Coca-Cola Bottlers Japan Inc.
First in Oita! Saiki-city Council of Social Welfare Fundraising Vending Machines Installed Unveiling ceremony held for the first machine on April 23
Coca-Cola Bottlers Japan Inc. (Headquarters in Minato-ku, Tokyo; Representative Director & President Calin Dragan; hereafter "CCBJI") started on Tuesday, April 23 the installation of Oita's first fundraising vending machines with understanding and cooperation of the Saiki-city Social Welfare Council (SSWC), a social welfare service corporation. On the same day, an unveiling ceremony for the first machine was held at SSWC with the people involved. The machines are designed with SSWC's official character "Hitoshizuku-chan" and have been installed in the headquarters and related facilities of SSWC in Saiki-shi, Oita, and companies who worked with us.
Part of the proceeds from purchases of soft drinks at those vending machines will be used, under the "community development supported by everyone", to help make Saiki a city of welfare where people can live with a sense of security. CCBJI will advertise the activity to let more people know about it by rolling out the fundraising machines across the prefecture.
■Tuesday, April 23, 2019  Unveiling ceremony of the first Saiki-city Social Welfare Council Fundraising Machine
【Photo】SSWC headquarters (7255-13 Saiki-shi, Oita)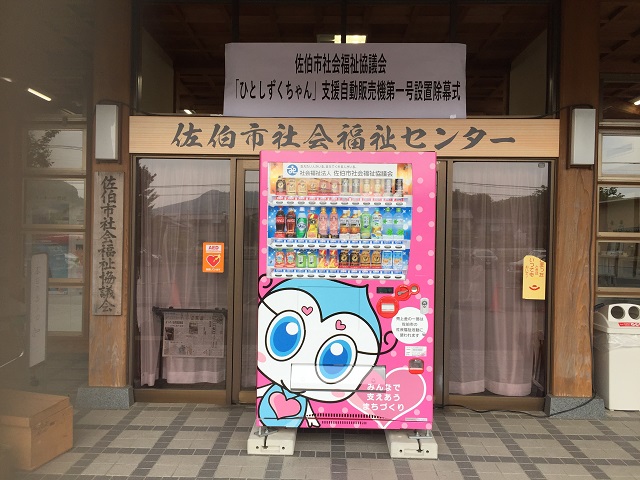 Please see here for the PDF version.