Part of sales proceeds from child-rearing support vending machines was donated to Hidaka City
Mar. 01,2019
News Release
March 1, 2019
Coca-Cola Bottlers Japan Inc.
~A bottle of your drink will support the raising of children~
Part of sales proceeds from child-rearing support vending machines was donated to Hidaka City
To enhance child support facilities
Coca-Cola Bottlers Japan, Inc. (Headquarters located in Minato-ku, Tokyo, Representative Director and President Tamio Yoshimatsu, hereafter "our company") donated 422,763 yen to Hidaka City from part of the sales proceeds that were earned between March and December 2018 from the child-rearing support vending machines, pursuant to the agreement with Hidaka City(Mayer:Teruo Yagasaki)
The "Agreement for Child-rearing Support Vending Machines" was concluded to install vending machines and run a program in cooperation between our company and Hidaka City to facilitate the participation of the citizens and corporations in child rearing, thereby nurturing a culture to support child rearing across the city and publicize the city's supportive programs. At present※, 17 vending machines have been placed in public and private facilities in Hidaka City. The donation this time will be used to purchase playground equipment for a children support center "Nuku Nuku", Korai Nursery Center, and the kids' space inside Hidaka City Hall.
We will continue our support for the child rearing of Hidaka City.
※ As of March 1, 2019
■Flow of child-rearing support by Hidaka City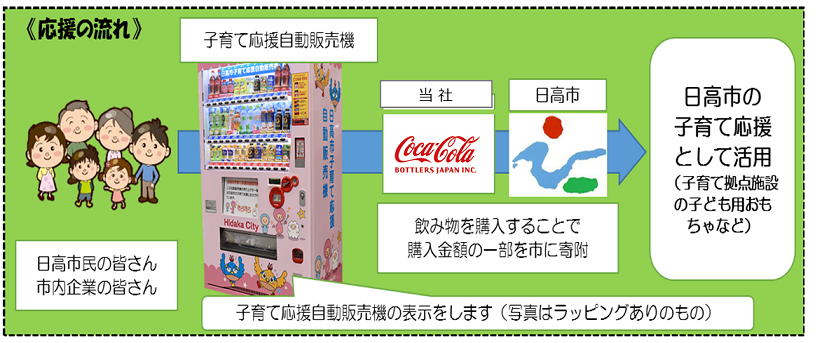 Please see here for the PDF version.