CCBJI made a courtesy visit to the Osaka Prefectural Government to mark the introduction of the Osaka design version of "Coca-Cola" Slim Bottle
Sep. 20,2018
News Release
September 20,2018
Coca-Cola Bottlers Japan Inc.
CCBJI made a courtesy visit to the Osaka Prefectural Government to mark the introduction of the Osaka design version of "Coca-Cola" Slim Bottle
Partial Proceeds will be donated to "Osaka Art and Culture Festival"
On October 1 (Monday), 2018, Coca-Cola Bottlers Japan (hereafter "CCBJI"), based in Minato-ku, Tokyo, and headed by Representative Director and President Tamio Yoshimatsu, will introduce the Osaka design version of "Coca-Cola" Slim Bottle which comes in a stylish, special package designed with illustrations of local sightseeing spots.
Ahead of its introduction, on September 20 (Wednesday), the Osaka design version of "Coca-Cola" Slim Bottle was presented to Governor of Osaka Ichiro Matsui.
In his greeting speech, CCBJI Senior Executive Officer Yoshiki Fujiwara said, "We have been introducing design bottles in each region for the purpose of regional development. We would like to have partial proceeds from the sales of "Osaka version" utilized for Osaka Art and Culture Festival, which started in 2017, to create the appeal of Osaka as a city.
From right:Mozu-yan (Deputy Governor of Osaka in charge of PR ), Yoshiki Fujiwara (CCBJI: Senior Executive Officer, Regional Sales ), Ichiro Matsui (Governor of Osaka), Akihiko Takao (CCBJI: Head of Hanshin Retail Sales Department, Kinki/Shikoku Area Sales)
"Osaka design" that will be introduced this time is a special design with iconic illustrations of Osaka Castle, Umeda Sky Building and takoyaki (ball-shaped pancake containing pieces of octopus) and is available only in and around Osaka.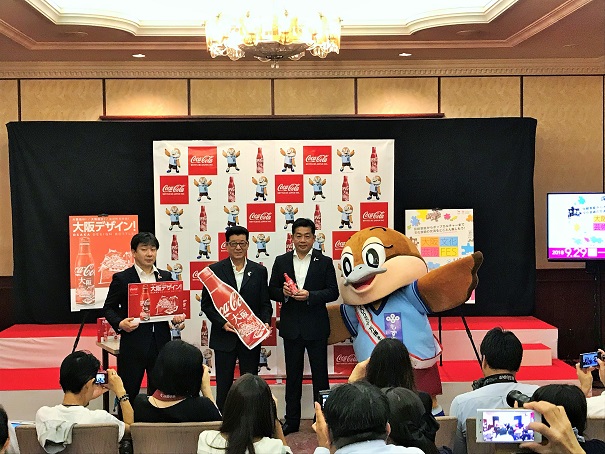 Please see here for the PDF version.