Coca-Cola Bottlers Japan to kick off operations of its new automated distribution center "Saitama Mega DC" in February
To advance automatization for large-scale and efficient warehouse operations
Feb 03, 2021
Coca-Cola Bottlers Japan Inc.
Coca-Cola Bottlers Japan Inc. (Headquarters in Minato-ku, Tokyo; Representative Director & President Calin Dragan; hereafter "CCBJI") constructed an automated distribution center equipped with one of the largest storage and shipping capacities across the Coca-Cola system in Japan, using the premises of its existing Saitama Plant (Yoshimi-machi, Hiki-gun, Saitama Prefecture), and began operations today on February 3.
Serving as a logistics hub for the entire Tokyo and Saitama area, the Saitama Mega DC has one of the largest storage capacities (60,000 pallets) and shipping capacities (85 million cases) in the Coca-Cola system in Japan. Leveraging the experience and knowledge cultivated from our logistics optimization project "Shinsei Project", the Saitama Mega DC is designed as an inventory distribution center and integrates multiple smaller sites' product sorting, picking, and other logistics processes as well as warehousing and storage space, in order to build an optimized network that achieves timely end-to-end deliveries from the production site all the way to end-customers and vending machines. In addition, it employs automated storage racks and picking systems, which allows the storage of the same quantity of products in half the space of a conventional warehouse and reduces time and human processes for shipping, realizing highly dense and efficient warehouse operations.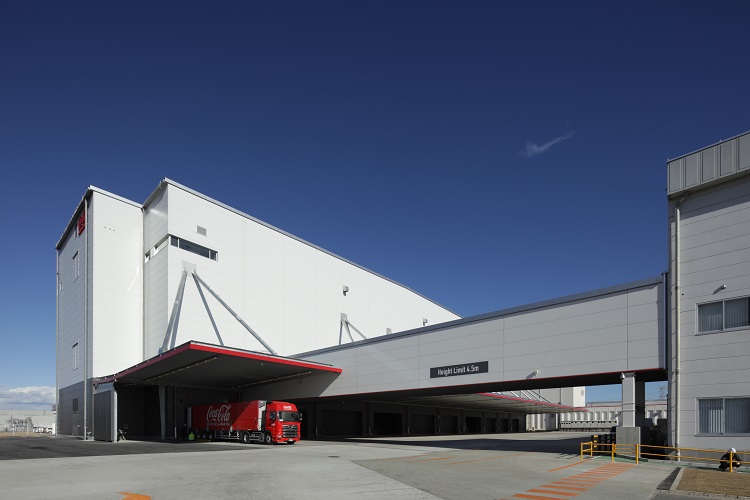 Exterior view of the Saitama Mega DC
Under the Shinsei Project that aims to optimize our logistics and distribution network, we are making efforts toward "balanced and continuous improvement" and creating a "high-quality, low-cost, and stable" supply chain. In addition to Saitama Mega DC, we plan to complete the construction of Akashi Mega DC (Note 1) in the premises of our Akashi Plant at the end of 2022. We will continue to build the best logistics system to swiftly respond to the market environment and our customers' diverse needs.
■【Coca-Cola Bottlers Japan Saitama Mega DC Outlines】
Address: 943-1 Shimohosoya, Yoshimi-machi, Hiki-gun,Saitama Prefecture  
Coca-Cola Bottlers Japan Inc. Saitama Plant premises
Building area: 14,747㎡
Total floor area of building: 23,548㎡ (3 floors)
Storage capacity: 60,000 pallets
Shipping capacity: 85,000,000 cases
Investment: Approx. 16.8 billion yen
Construction completion: February 2021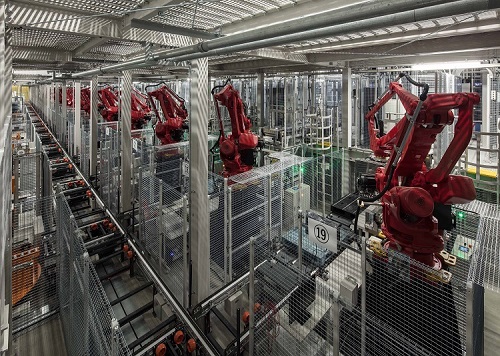 Automated picking system: A robotic picking system that compiles multiple products for shipping and boosts the efficiency of both stock management and logistics processes.
(Note 1) Construction of state-of-the-art automated logistics center begins at Akashi Plant property
https://www.ccbji.co.jp/news/detail.php?id=903
Please see here for the PDF version.
*Please note that the information contained in news releases is current as of the date of release. Certain information may have changed since the date of release.