First time in Japan! Vending machines supporting campus wireless LAN "eduroam" were installed in parks in Kyoto, the student city.
Coca-Cola Bottlers Japan Inc. installed the Japan's first vending machines supporting the international campus wireless LAN "eduroam" in 10 parks in Kyoto City including the Maruyama Park, with technical cooperation from the Academic Center for Computing and Media Studies, Kyoto University.
"eduroam", international academic wireless LAN roaming infrastructure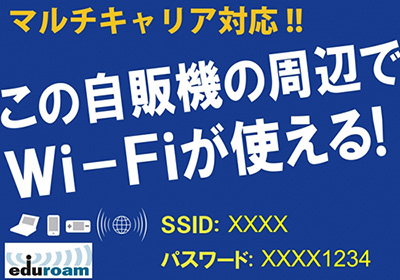 "eduroam" is an international wireless LAN roaming mechanism to realizes mutual use of wireless LAN among elementary, secondary, and higher education institutions and research institutions. It was developed and operated by GÉANT, an education research network operator in Europe, and currently available in areas across 106 countries in the world. In Japan, it has been introduced in 279 institutions. As a wireless LAN service for education and research institutions, it is becoming a standard service worldwide.
Students and others involved in the institution can use the "eduroam" service free of charge with their ID (student ID card), as long as their institution participates in the service. Furthermore, they can access to eduroam not only in their university's campus, but also in universities around the world for free as long as they participate in "eduroam".
Coca-Cola Bottlers Japan Inc. installed the Japan's first vending machines supporting "eduroam" in parks in Kyoto City. By enhancing "eduroam" access points, we will support increased convenience for the students and researchers around the world who visit Japan for academic conferences, study-abroad programs, or tours. In particular, as new ways of working and learning are being created by the influence of the COVID-19, the increase in environments to connect to "eduroam" may broaden the choices of place which allows students to attend lectures anytime, anywhere.
Contribution to communities brought by eduroam-supported vending machines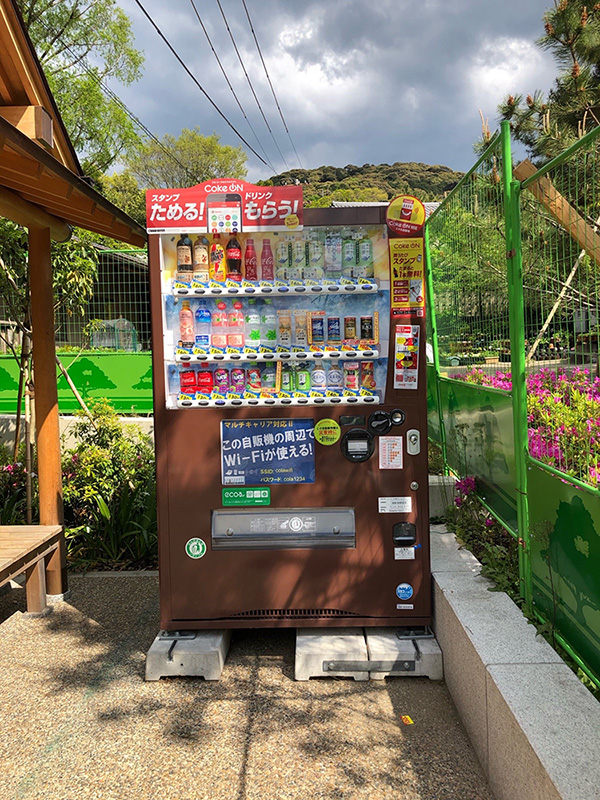 eduroam-supported vending machines in Maruyama Park,
a sightseeing spot and place for relaxation and refreshment in Kyoto City
According to the survey conducted by the MLIT Japan Tourism Agency from November 2019 to February 2020 targeting foreign travelers to Japan, as much as 18.7% (*1) of the respondents answered "free public wireless LAN environment" as one of the troubles during their trip.
Although the free public wireless LAN environment is improving year after year, Japan still has a low number of free public wireless Wi-Fi spots. The increase in environments with such free public wireless LAN will allow Kyoto, which has many student visitors and tourists from other cities in Japan and abroad, to become a city that is easier for students and researchers to do sightseeing and interact with the community.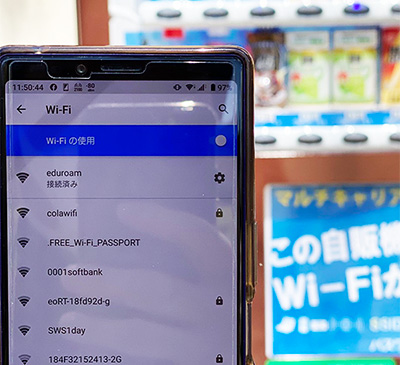 In addition, eduroam has also been reported to be resilient against disasters (*2). At the occurrence of the Great East Japan Earthquake which hit Tohoku district on March 11, 2011, many of the affected area suffered blackouts and communication failures, but it was confirmed in the log that some eduroam access spots had been available without problems. The increase in such eduroam access points is expected to promote creation of cities which can secure communication methods even in the event of a disaster.
Under its mission of delivering happy moments to everyone and creating value which is upheld as the corporate philosophy, CCBJI will continue to expand installation of its vending machines in a bid to back up initiatives for creating safe and attractive cities.
●If you are interested in installing vending machines supporting "eduroam", please contact us from the link below.
https://en.ccbji.co.jp/business/
■Existing parks with eduroam-supported vending machines
Kodaiji Park, Funaokayama Park, Ponto-cho Park, Maruyama Park, Shinkyogoku Park, Takaragaike Park North Garden, Higashi Shiokoji Park, Nijo Park, Okazaki Park, and Higashiyama Sancho Park