Coca-Cola Bottlers Japan Inc. Donated Part of its "Coca-Cola" Slim Bottle Sendai Design Proceeds to Help Promote Tourism in Sendai
On March 12, Coca-Cola Bottlers Japan Inc. made a courtesy visit to Gen Amano, Head of Sendai Culture and Tourism Bureau, to donate part of sales from "Coca-Cola" Slim Bottle Sendai Design to the city of Sendai.
The donation certificate was presented in the Sendai city hall, and Kazuhiro Sato, CCBJI South Tohoku Area Sales Head, talked with him about the future of Sendai City with smiles on their faces.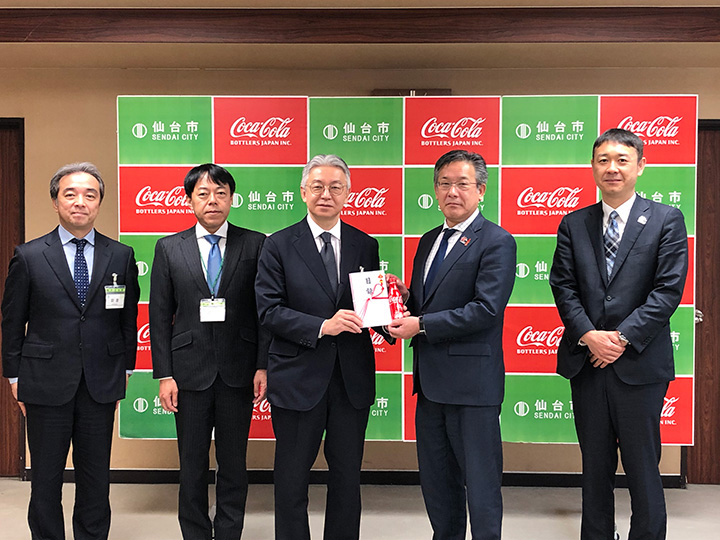 What is "Coca-Cola" Slim Bottle Regional Design?
Since June 2017, the company has been designing bottles with regional symbols and tourist spots across Japan and selling them locally in limited volume as a special package to make travel more enjoyable. The company so far marketed 33 variations, which enjoy popularity among lots of people as a perfect souvenir.
The "Coca-Cola" Slim Bottle comes in a 250 ml drink-up size that is good for a break at work and at home, on the move, and women. In addition to the iconic curvy shape, with which you can tell it is a Coca-Cola if you feel it even in the dark, the bottle uses aluminum material. The ice-cold feel of the bottle will make Coca-Cola more tasty and refreshing.
The Sendai's bottles are designed with motifs of a popular sightseeing spot "Sendai Castle" and the statue of Date Masamune, who is the first ruler of Sendai Domain

"Coca-Cola" Slim Bottle Sendai Design that was launched in June, 2018 is designed with illustrations of Date Masamune and Sendai Castle, the iconic symbol of the region and a popular sightseeing spot. These bottles are available only in the region around Sendai and have been very popular.
To be cherished by the local people as a company that walks hand-in-hand with local communities, CCBJI will continue to actively participate in advertising attractiveness of regions and supporting tourism under the concept "make travels more enjoyable" with our "Coca-Cola" Slim Bottle Regional Design Bottles.
When you visit Sendai or surrounding areas, pick up this stylish bottle that is available only in this region. You will experience the first step into the community contribution and the refreshing sensation that adorns your travel.