Signing of Comprehensive Agreement on Collaboration and Cooperation with Takamatsu City!
Coca-Cola Bottlers Japan Inc. signed a Comprehensive Agreement on Collaboration and Cooperation (*) with Takamatsu City on Monday February 17, 2020.
At the signing ceremony, Mayor Hideto Onishi of Takamatsu City commented, "I believe, in providing public services, it's important to cooperate and collaborate with businesses as they are engaged in various activities. We would appreciate your cooperation in deploying cultural and sports projects, and in other various fields such as environmental measures, industrial and tourism promotion."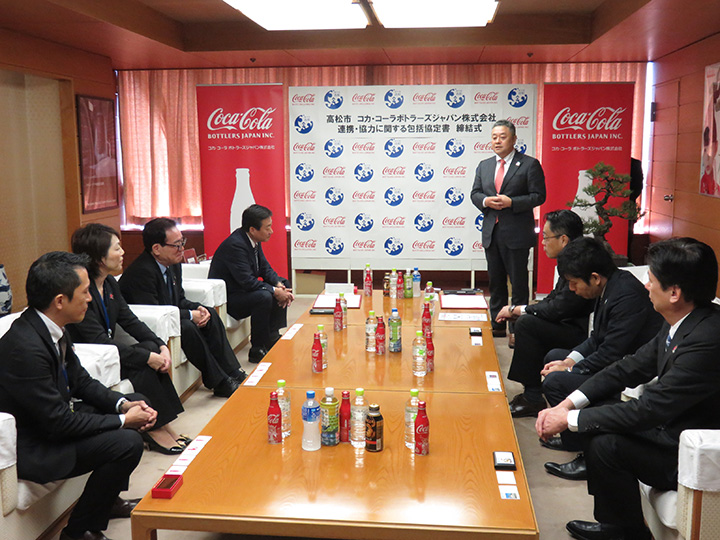 CCBJI's Head of Kinki/Shikoku Area Sales, Kazutaka Ikeda, enthusiastically explained, "We are already proceeding with various preparations for the torch runner to pass through Takamatsu City on April 19. Please feel free to talk to us and make suggestions as we hope to be of as much use as possible in contributing to the health and well-being of the people of Takamatsu."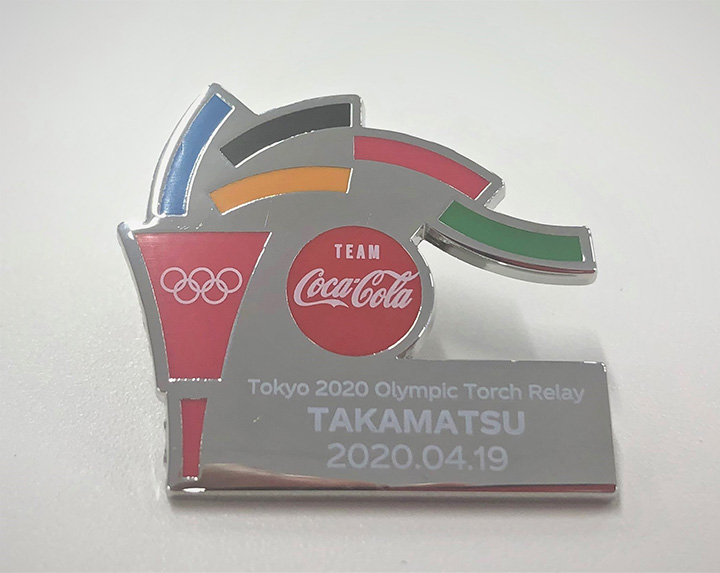 For the commemorative photo shoot, Ikeda distributed original pins designed with the torch, the words "TAKAMATSU," and the date of the torch relay, to Mayor Onishi and the members present.
Takamatsu City, where the contract was concluded, is located in Shikoku area, and the Coca-Cola slim bottle Pilgrimage design was introduced in May 2018 to commemorate the 1200th year since the opening of the 88 sacred sites of Shikoku. Shaped in stylish aluminum that's pleasantly cool to the touch, it is designed with animation characters of the area and the Onaruto Bridge.

Coca-Cola slim bottle "Pilgrimage" design
This bottle can often be found in local souvenir shops and in highway service areas. It is a drinkable 250ml size and great with meals during travels or when taking a break to refresh. Try the one-and-only pilgrimage design bottle and liven up your travels!
※This agreement was concluded for the purpose of revitalizing the community, improving public services, and fostering momentum for the Olympics and Paralympics. Specifically, it proposes the following six elements: Promotion of sports and culture, Environmental conservation, Industrial promotion, Tourism promotion, Safe and secure community development, and Other efforts to revitalize the community and improve public services.