Coca-Cola Bottlers Japan Inc. helps promote tourism with "Coca-Cola" Slim Bottle Saitama Design!
Coca-Cola Bottlers Japan Inc. held a ceremony to donate part of "Coca-Cola" Slim Bottle Saitama Design proceeds to Saitama Prefecture under its agreement on alliance and cooperation in tourism signed with the prefecture.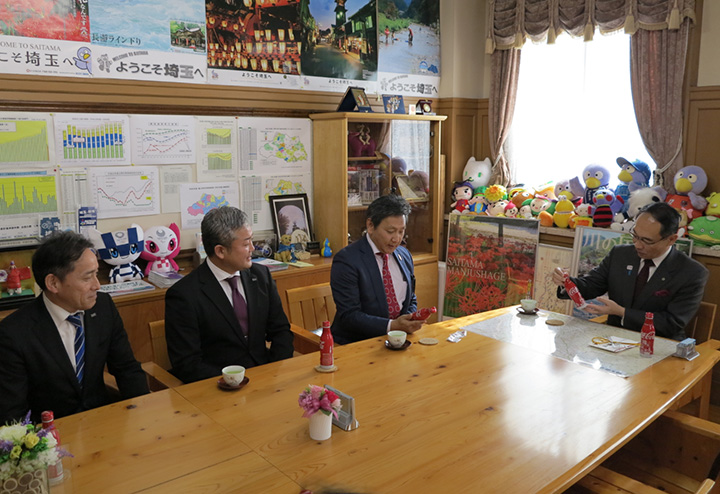 At the ceremony, Yutaka Inoue, Head of CCBJI Kanto Area Sales, presented the donation certificate to Saitama Governor Motohiro Ono, saying, "With the Olympic Games Tokyo 2020 coming soon, we hope to further help with the promotion of tourism in the prefecture and contribute in ways only CCBJI can."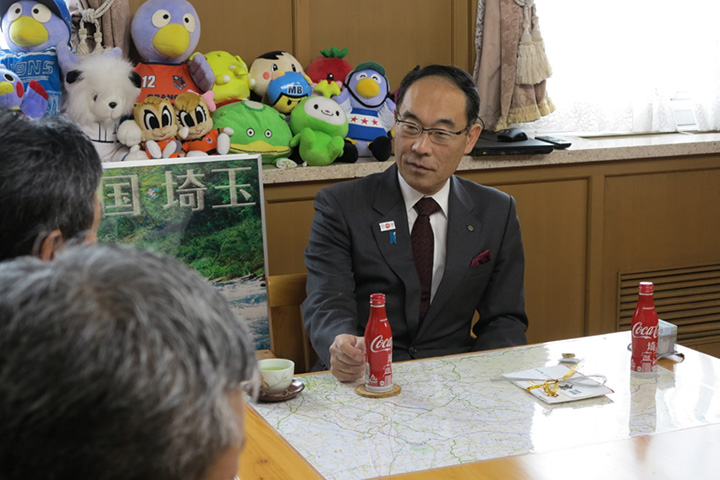 Governor Ono said, "Many people travel to Saitama. We will use the donation to support tourism of the prefecture."
What is "Coca-Cola" Slim Bottle Regional Design?

Since June 2017, the company has been designing bottles with regional symbols and tourist spots across Japan and selling them locally in limited volume as a special package to make travel more enjoyable. The company so far marketed 33 variations, which enjoy popularity among lots of people as a perfect souvenir.
The "Coca-Cola" Slim Bottle comes in a 250 ml drink-up size that is good for a break at work and at home, on the move, and women. In addition to the iconic curvy shape, with which you can tell it is a Coca-Cola if you feel it even in the dark, the bottle uses aluminum material. The ice-cold feel of the bottle will make Coca-Cola more tasty and refreshing.
Saitama bottle designed with Kawagoe's Koedo and Nagatoro boat riding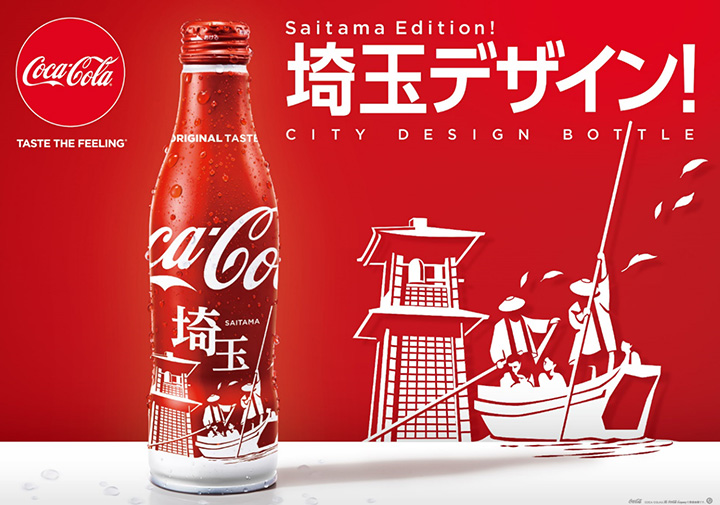 The Saitama Design has two major tourist spots on its package.

One of them is the symbolic Bell Tower of Kawagoe City, which is also known as Koedo, a castle town of Kawagoe Domain flourished during the Edo period. Since originally built in the early Edo period and rebuilt several times, the bell has been chiming four times a day - at six in the morning, noon, three and six in the afternoon- over 400 years or so, and in 1996 it was selected as one of the Top 100 Soundscapes in Japan by the Ministry of Environment.

The second one is Nagatoro river boat riding, known for its country-designated scenic beauty. Nagatoro is one of Saitama's most popular tourist destinations, where you can enjoy boat riding in the natural beauty of the valley with boat guides skillfully maneuvering the boat on the meandering, rapid flowing river.

We will keep working to become a company walking hand-in-hand with local communities through our efforts such as the "Coca-Cola" Slim Bottle Regional Design.

Saitama is full of attractions such as sightseeing, sports and music events, so visit Saitama and look for the Saitama design bottle. The bottle shape and aluminum material will make Coca-Cola more tasty and refreshing, so enjoy Coca-Cola with the charms of Saitama and help its tourism in a simple, pleasant way!