Participating in Miyajima Tsutsumigaura Natural Park cleaning activity - Working with community to realize sustainable society
Oct 13, 2021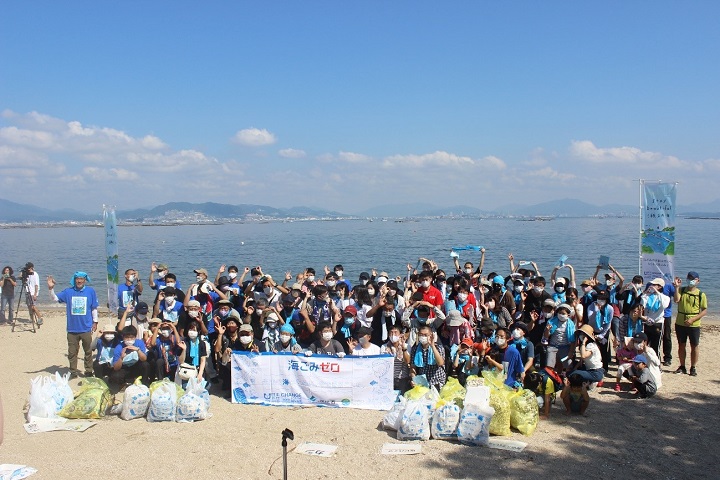 A cleaning activity in Miyajima Tsutsumigaura Natural Park, Hiroshima Prefecture, took place on October 9 (Sat) as part of the initiatives by the "GREEN SEA Setouchi Hiroshima Platform (abbreviated as "GSHIP")", of which Coca-Cola Bottlers Japan is a member, and "Marine Waste Issue Jibungotoka Project in Hiroshima", and our executive officer Maki Kado and some of our employees participated in the cleaning.

■What is "GREEN SEA Setouchi Hiroshima Platform"?
Founded on June 23, 2021, the GREEN SEA Setouchi Hiroshima Platform brings the citizens of the prefecture and businesses together to work on local challenges in the Setouchi area amid the growing global problems of environmental pollution by marine plastic waste.

Through this new public and private organization in the local area, a wide network of companies, groups, and governments joins hands in examining and implementing measures to solve marine plastic waste issues.
※For details, visit https://www.pref.hiroshima.lg.jp/site/eco/greenseaplatform.html



■What is "Marine Waste Issue Jibungotoka Project in Hiroshima"?
Organized by The Nippon Foundation "UMI TO NIPPON Project" as part of its "CHANGE FOR THE BLUE" program, "Marine Waste Issue Jibungotoka Project in Hiroshima" actively works on cleaning activities and other environmental initiatives in Hiroshima Prefecture, with the aim to sustain the beautiful Seto Inland Sea for the future.
※For details, visit "Marine Waste Issue Jibungotoka Project in Hiroshima" | RCC TV

■ After collecting 63 kg of waste on the day, we separated and weighed each type of waste!
The cleaning activity took place under pleasant weather with 109 participants. After checking body temperatures and sterilizing hands, we started collecting waste. We saw a lot of fishery related waste and styrofoam pieces in Miyajima Tsutsumigaura Natural Park and collected as much as 63 kg of waste only by this cleaning activity.

We then separated and weighted the collected waste. Some participants said, "I learned some of the waste can be used as resources depending on how we separate it. It made me think once again about being conscious of waste separation", "After collecting this much waste in a matter of one hour, I realize again how significant the waste issue is".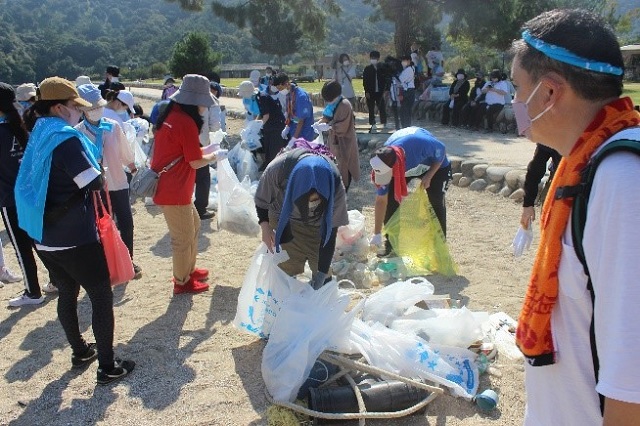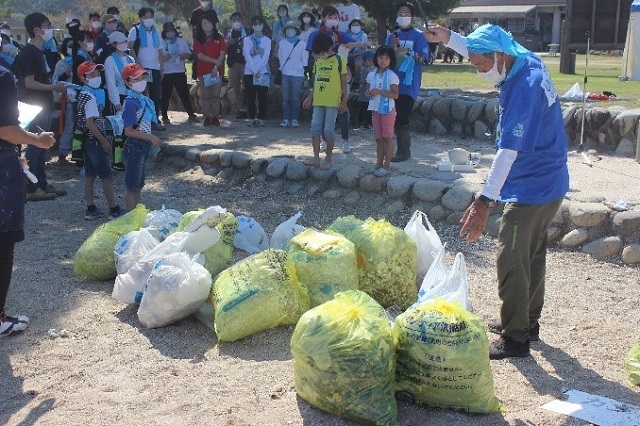 ■ Comment from our Executive officer Maki Kado
We have been engaged in various activities everyday with the people of the community here in Hiroshima because we have one of our plants, Hiroshima Plant, and the home ground of our Red Sparks Hockey Club. Also, Hiroshima is my hometown.
Through enjoying the nature of my hometown and taking part in this cleaning activity, I was reminded that I want to preserve the beauty of this nature for the future generations.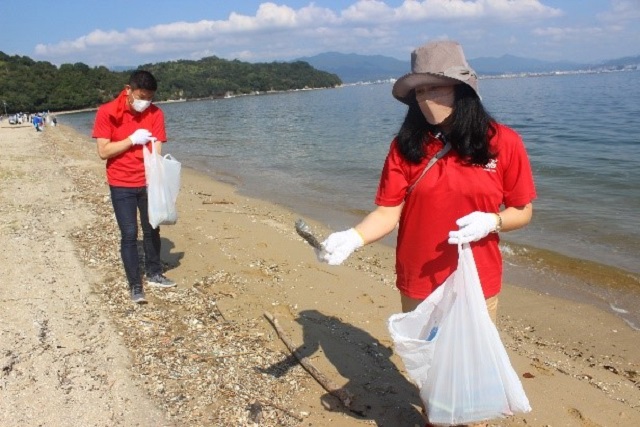 In 2018, The Coca-Cola Company declared its global vision to work towards a "World Without Waste", and in January of the same year the Coca-Cola system in Japan defined its own "2030 Packaging Vision" in efforts to achieve the global vision. The term "SDGs" has been widely recognized over the past few years. And now that we have less than 10 years until the target year, I believe that working on the SDGs is not a mere "fad" but it is a responsibility we should fulfill as citizens who continue to live on the Earth.

It was a pleasure to have participated in this activity with the people of the community who support our business on a daily basis. I have realized firsthand that it is very important to work on community challenges through our business and to contribute to the community as a member of it through community-based initiatives. We are committed to further working with "partners" for the realization of the World Without Waste".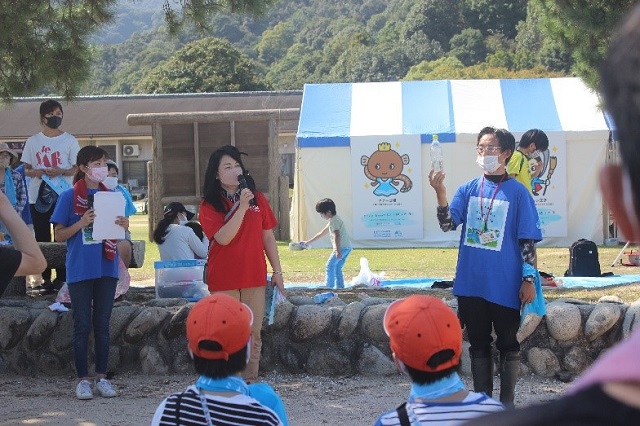 ■Toward Achieving a World Without Waste
In 2018, The Coca-Cola Company (TCCC) declared its vision to work towards a "world without waste" by launching a global initiative under this name to dramatically reduce the environmental impact of packaging. In January that year, the Coca-Cola system in Japan announced its own commitments as "2030 Packaging Vision" in which it laid out a set of environmental targets that align with TCCC's global initiative. Furthermore, to accelerate the progress of this global initiative, the roadmap set in "2030 Packaging Vision" was renewed in July 2019 with shorter timelines aimed at achieving the targets earlier than the original due dates.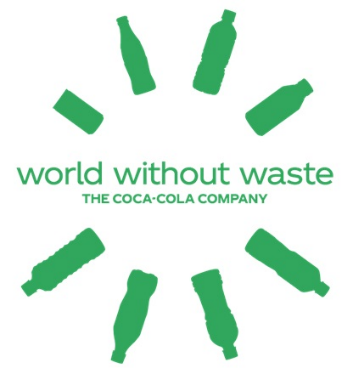 ■ Commitments to Achieving "2030 Packaging Vision"
Based on the above-mentioned global initiative, the Coca-Cola system in Japan is undertaking activities built on the three pillars of "Design, Collect, and Partner" to resolve the problem of waste originating from packaging. Through the promotion of a bottle-to-bottle initiative, we are working to realize the 2030 Packaging Vision, with a primary goal of transitioning all PET bottles to 100% sustainable materials by 2030. For details, click here.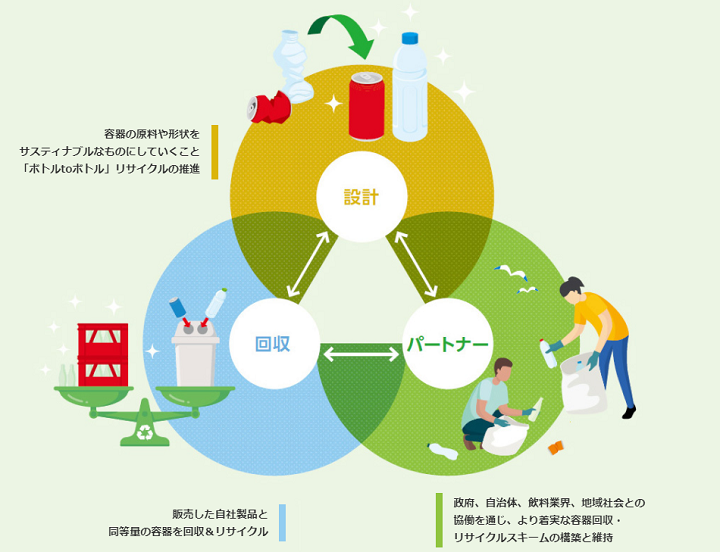 ■With "Partners" of the community
We are building and maintaining stronger collection and recycling schemes through partnerships with the national and local governments, beverage industry, and our communities.
With slogans, "packaging is not waste but resources" and "recycle after drinking", we would like to work together in sustainability activities through everyone's familiar drinks, in order to use resources in sustainable ways and prevent waste from flowing into the oceans.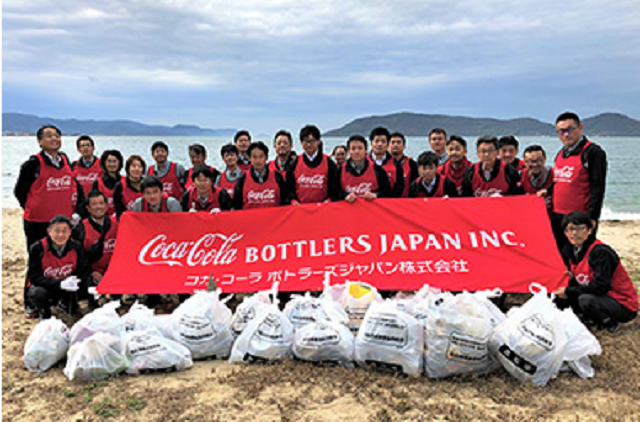 In Miyajima, Hiroshima, during our company's nation-wide cleaning program in 2019.