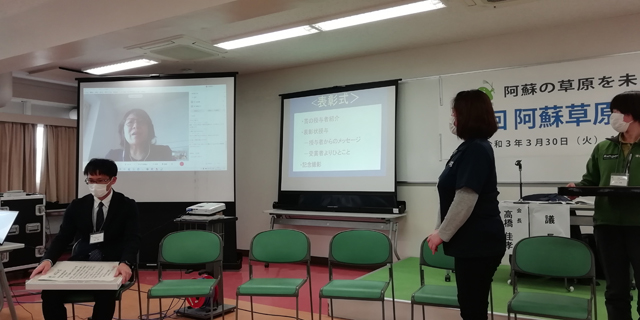 The Foundation works on voluntourism programs for people living in cities in order to gather and expand volunteers who are willing to support the burning of dead grass. The programs offer them opportunities to experience the maintenance and appreciation of grasslands and widely spread the value of Aso's grasslands, thereby contributing to the promotion of more people's participation in grassland restoration efforts.
We will continue our efforts in reducing water used in the manufacturing process (Reduce), recycle water used for manufacturing (Recycle), and replenish water in the water source areas (Replenish), in support of the conservation of water sources in our plant areas and preservation of biodiversity.
→ For our efforts in water resource conservation
Resources|Creating Shared Value(CSV)

Features of Aso 
Aso's grassland was originally formed by volcanic activities that created one of the world's largest calderas, which provides difficult environments for forests to grow and requires people's hands to maintain as grassland over the years.
The grassland has been preserved by human activities for agricultural and livestock farming, such as "pasturing", "mowing", and "controlled burning", and sustained its scenery as one of Japan's largest grasslands, with an area of approximately 15,700 hectare and diverse species of plants and animals living in it.
Biodiversity in Aso
Including Echinops setifer and Jacob's ladder which are only seen in Aso, there are diverse plants and animals unique to grasslands.
The plant species distributed in Aso total to about 1,600, which accounts for 1/5 of all 8,000 species of vascular plant distributed across Japan (excluding moss and fungi) .
The Aso area is also home to 56 kinds of endangered or rare flora and fauna, such as Jacob's ladder and Large Shijimi Blue.