● Support programs for young people
We have started initiatives to support young people, who lead the next generation, in cooperation with local governments, NPOs, and other local groups, in an effort to tackle diverse local issues. We think with young people and communities and work on various challenges towards their future.
In Fukushima Prefecture, we work with the prefectural government and Fukushima Local Group Support Center to offer "Challenge Internship", though which we support local young people to experience internship with NPOs during their summer recess and learn local challenges and contribute to Fukushima's reconstruction and recovery.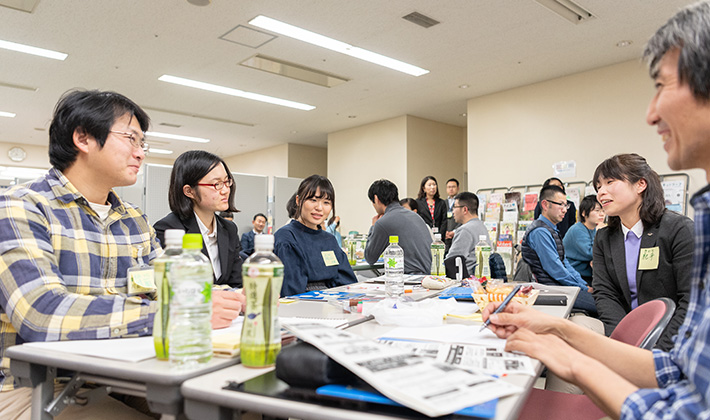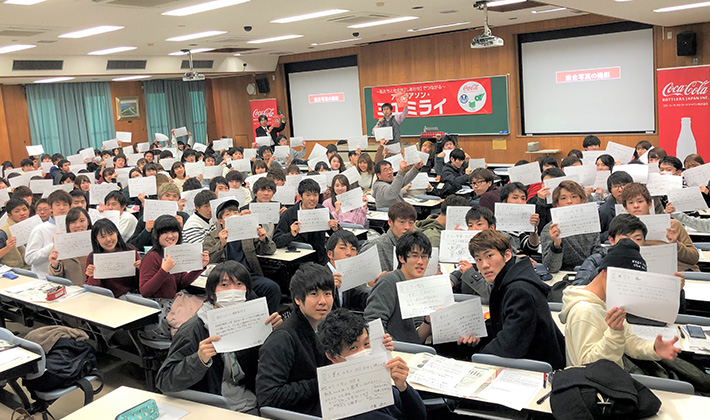 In Mie Prefecture, we provide a program, "U-29 Brainstorming Conference Mie Mirai", in collaboration with the prefectural government and M Bridge (NPO), and assist local young people to brainstorm ideas to solve problems for Mie's happy future.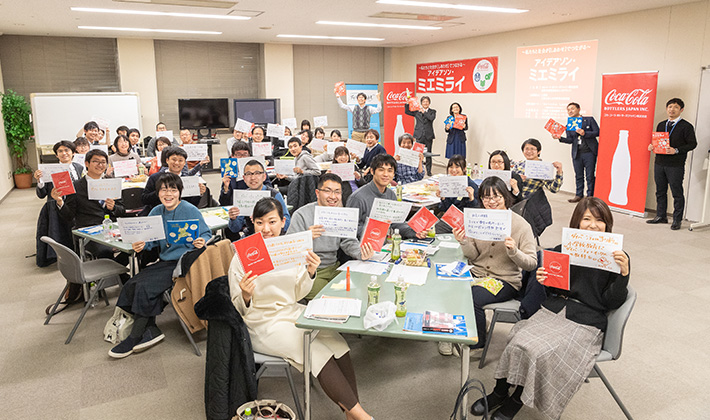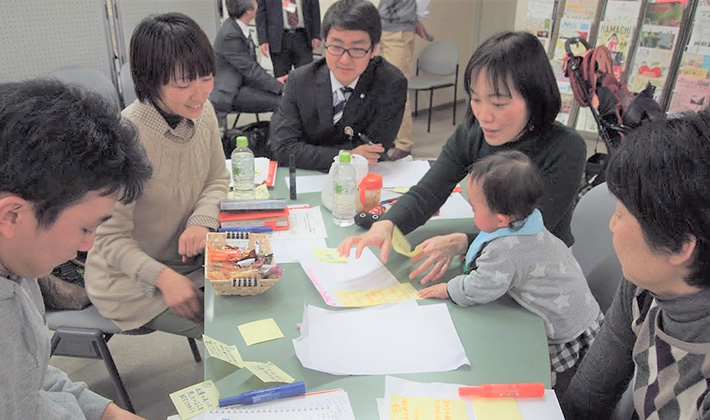 ● Ichimura Nature School in Kyushu
The Ichimura Nature School in Kyushu is a special non-profit organization that promotes youth educational activities under a basic philosophy of "learning about the power to live from Mother Nature". We have been supporting the school since it opened in 2003 in order to aid in the healthy development of children. Students from the fourth year of elementary school to the second year of middle school spend their weekends (3 days and 2 nights) with their friends and parents (caretakers) over a period of eight months working on various agricultural activities in the rich nature of Tosu City, Saga Prefecture. To date, a total of 803 children have graduated from the school. The school allows students to understand the power of perseverance through hard work cultivating and harvesting agricultural crops, as well as the importance of diverse natural ecology and life itself. It is also a place for students to "acquire the necessary discipline and qualities such as individuality and creativity" through communal living.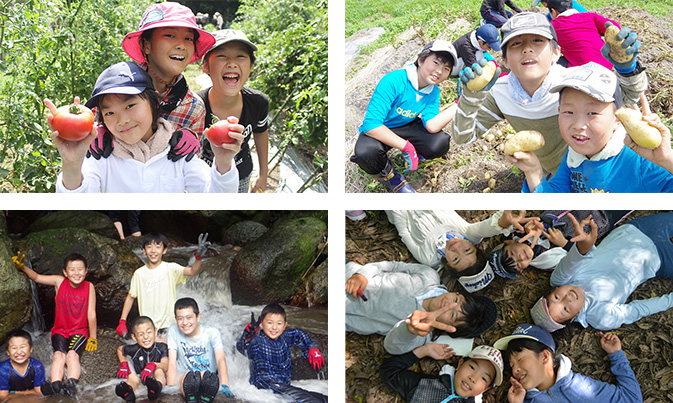 ● Environment Educational Events
Zao Plant, Tama Plant, and Tokai Plant have been organizing "Summer Schools" targeted for the children and their parents living in the local community. These Summer Schools introduce various initiatives such as quality control being ensured within the manufacturing process of the Coca-Cola products and reduction in water usage amount, and provide experiencing type learning such as one where the participants would learn about the preciousness of the forests, which nurture water that is indispensable for all of us. In 2017, approx. 1,200 participants had experienced plant tours and creation of post cards by using thinned wood.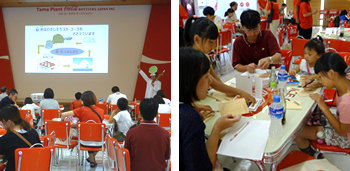 Green Park Ebino (Ebino Plant), which is located in Miyazaki Prefecture, has been organizing educational events for elementary and junior high school students since 2007 in collaboration with the local government, citizen groups, and educational institutes during the summer holiday season. In 2017, 17 classes were held, whereas approx. 500 participant parents and children had developed their "thinking capabilities" via various different activities that were held among rich natural environment. These events are highly evaluated by the local government, and has been awarded with "Award for Forming of Future Miyazaki (Collaborative projects)" in Feb. 2016 from Miyazaki Pref.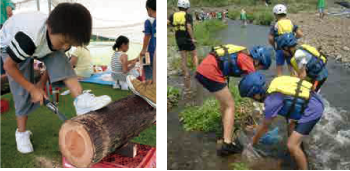 ● Classical Concerts
Since 1989, we have been hosting high-quality classical music concerts for the local community in order to contribute to the creation of a rich society (developing spiritually rich human resources). In 2016, we invited an audience spanning a wide range of ages to enjoy wonderful concerts held in three venues in Osaka, Ehime, and Fukuoka prefectures.
Please click here for more details.
Please click here for more details. (Only in Japanese)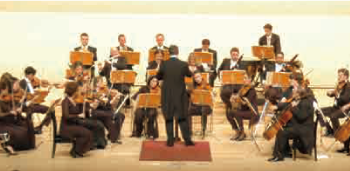 ● Family Musical
Since 1994, we have been hosting family-oriented musical events during the summer vacation period as an activity for both parents and children to enjoy with the aim of fostering closer parent-child relationships. In 2016, we invited customers from the region to our screening of "Rudolf the Black Cat", a story on wisdom, courage, and friendship, at three venues in Hyogo, Fukuoka, and Kagoshima prefectures. Our audience enjoyed a pleasant time at our musical with a friendly family-oriented program.
Please click here for more details.
Please click here for more details. (Only in Japanese)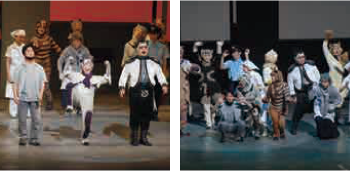 ● Collaboration with regional events
As a company that works together with local communities, we are collaborating with various events held in each region.
During the "Hiroshima Flower Festival" held in Hiroshima City in May 2016, our hockey and rugby team players were in charge of our company booth and interacted with the local community.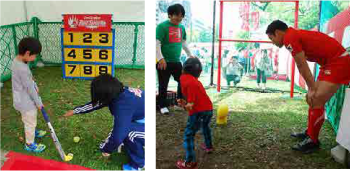 ● Great East Japan Earthquake Reconstruction Support
Since the earthquake in 2011, our group has been volunteering in support of reconstruction activities in the disaster affected areas of the Tohoku region. Our employees have volunteered in various reconstruction activities in the areas damaged by the earthquake.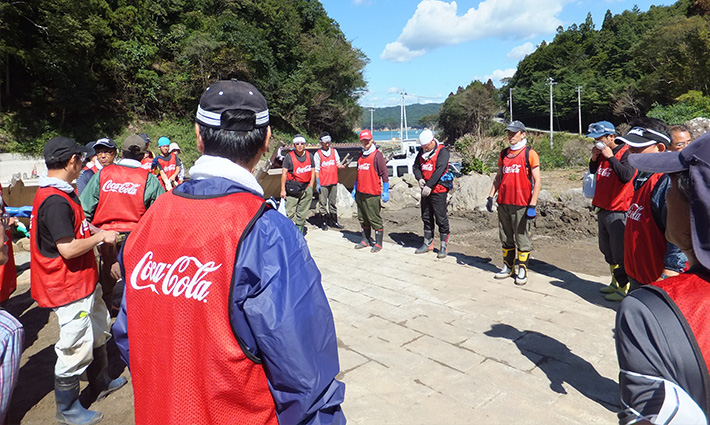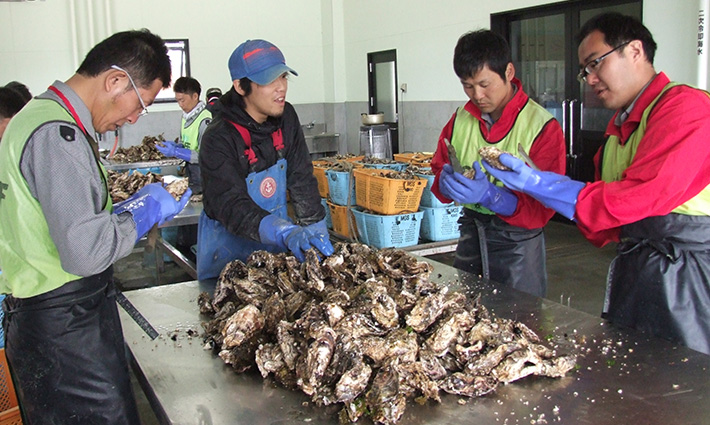 Disaster-relief Vending Machines
These vending machines can dispense drinks free of charge via remote operation during large-scale disasters and other similar events. In the event of a disaster, the vending machine can also disseminate critical information on the electronic notice board (display) located at the top of the machine. When the Great East Japan Earthquake occurred, we provided drinks free of charge via these vending machines and received many thanks from stranded residents who were unable to return home.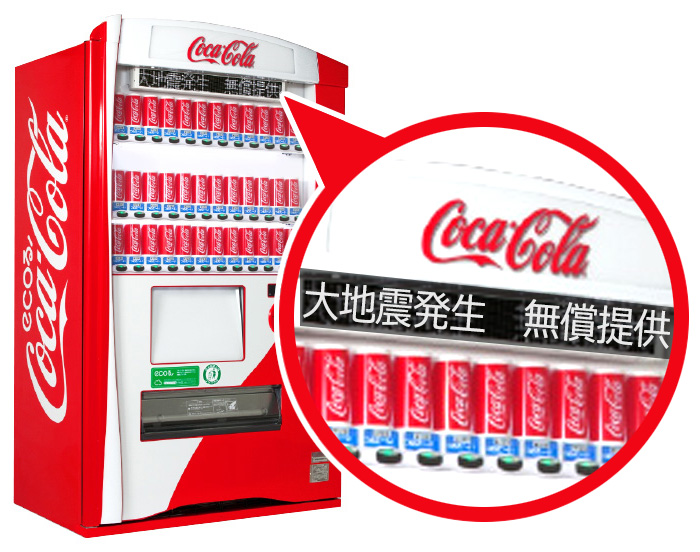 ● Scholarship Aid Initiative
The Coca-Cola Foundation carries out a scholarship aid initiative to develop and nurture the type of young talent required by the international community, as well as develop human resources that support the local communities. For over 40 years, this initiative has helped students with financial difficulty to attend university. In 2016, we gave scholarships to 22 new students.
※The Coca-Cola Foundation scholars are recruited through each high school every fall.