The amount of electronic money used and the number of cards issued are increasing on a yearly basis, and are expected to increase still further. Multi-money vending machines allow customers to use multiple forms of electronic money, such as Edy, iD, Suica, etc. in addition to cash.
Their distinguishing features are a panel for reading electronic money cards and an electronic money acceptance sticker.
World-Class Range of Electronic Money Supported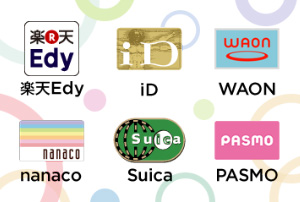 Customers can use Edy, iD, Suica and other electronic money services.
The types of electronic money supported may vary depending on the vending machine. See the sticker on the vending machine for the types of electronic money that are supported.