Believing that the health of local communities is the foundation of sustainable business activities, at Coca-Cola Bottlers Japan Inc. we are engaged in a wide variety of CSR activities.
Among these are initiatives for using the convenience of vending machines, which enable anyone, anywhere to enjoy a drink, to provide support during disasters and bring new energy to local communities.
Disaster Responsevending Machines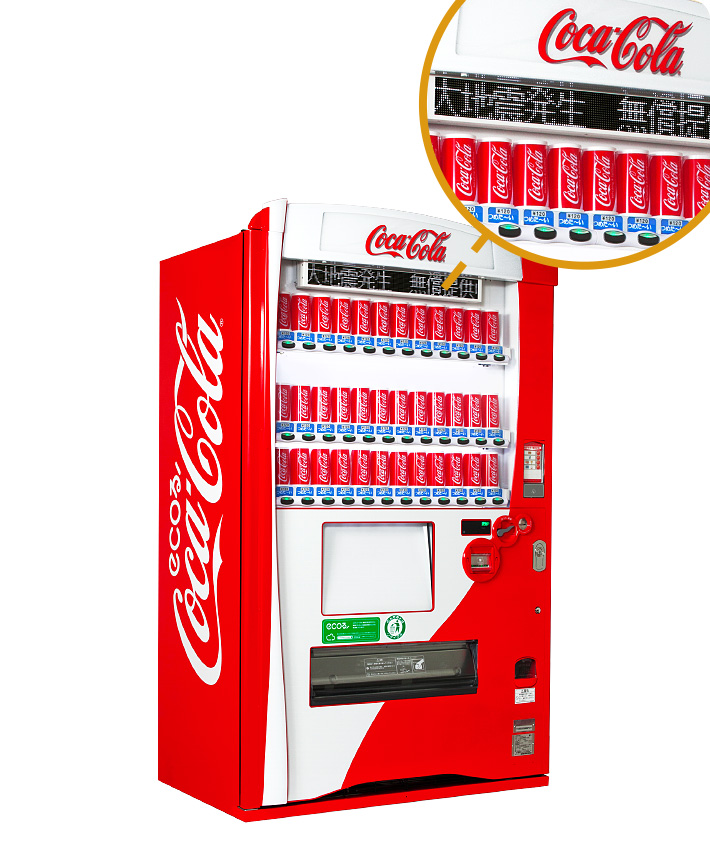 By employing remote control, these vending machines allow providing products free of charge during large-scale disasters.
They are capable of contributing to local communities by providing relief through unique functions during earthquakes and other emergencies. Communication network technology-based remote control allows providing disaster information on electric noticeboards mounted on the vending machines, and making the beverages left inside the machine available free of charge.
During the Great East Japan Earthquake, our products were provided free of charge, and we received feedback expressing gratitude from numerous people who had difficulty returning home. These vending machines are often installed based on "disaster relief agreements" stipulated between the installer and the local bottler in charge of the vending machine's operation. The timing and decision-making authority for the provision of drinks free of charge varies depending on the terms of the agreement.
The actual places of installation are selected based on their public nature, focusing mainly on school gymnasiums, public facilities and hospitals designated as emergency evacuation sites.
The Coca-Cola System was the first to introduce such efforts in Japan. The first machine with earthquake relief functions was installed by Mikuni Coca-Cola Bottling Co., Ltd. in March 2003 at the city hall of Ageo in Saitama prefecture. This was the fruit of a proposal that was adopted among several formulated by Mikuni Coca-Cola Bottling Co., Ltd. as a corporate citizen in order to contribute to disaster prevention measures taken in local communities.
CSR-Oriented Vending Machines
In cooperation with the clients who install our vending machines, we are engaged in initiatives whereby part of the proceeds from vending machines are donated to associations that work to help communities and protect the environment.
Our vending machines have been noted by many as an accessible CSR tool that allows making donations by purchasing our products.