● Key zero-calorie and caffeine-free drinks
To support the active and healthy lifestyles of consumers, we produce and sell a variety of unique products that cater to people's tastes and health awareness.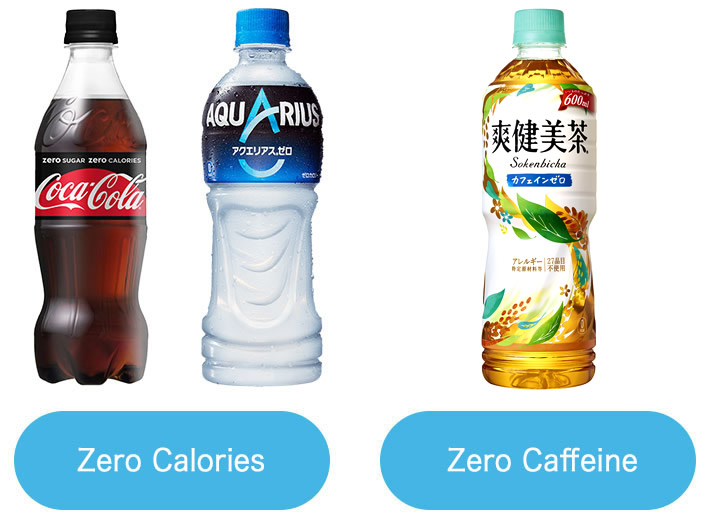 ● Drinks with no artificial coloring
"Fanta Grape" and "Fanta Orange" have no artificial flavors or coloring, and "Minute Maid Qoo Wakuwaku Orange" has no preservatives or artificial coloring.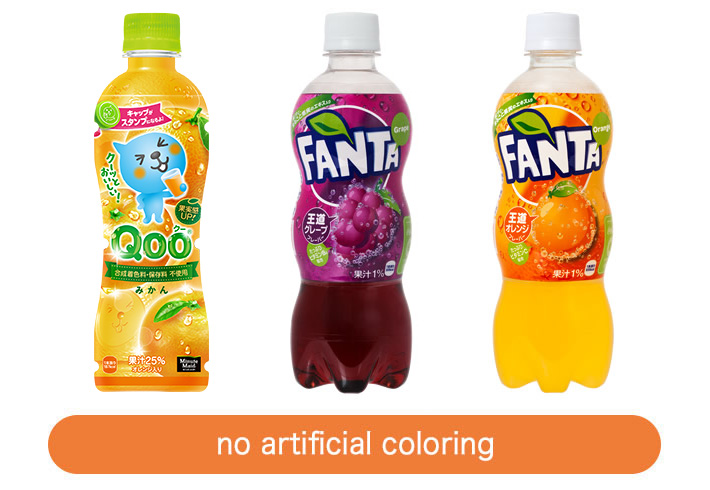 ● Foods for Specified Health Uses (FOSHU)
Foods for Specified Health Uses (commonly known as FOSHU) have been approved to have specific health uses such as improving the dietary habits of consumers concerned about high cholesterol or regulating the function of the stomach, and such products include ingredients that impact the body's physiological function (nutritional composition that caters to a specific health use). FOSHU products are certified by the Ministry of Consumer Affairs after submission of scientific grounds for validity and safety followed by a strict inspection and evaluation by the government.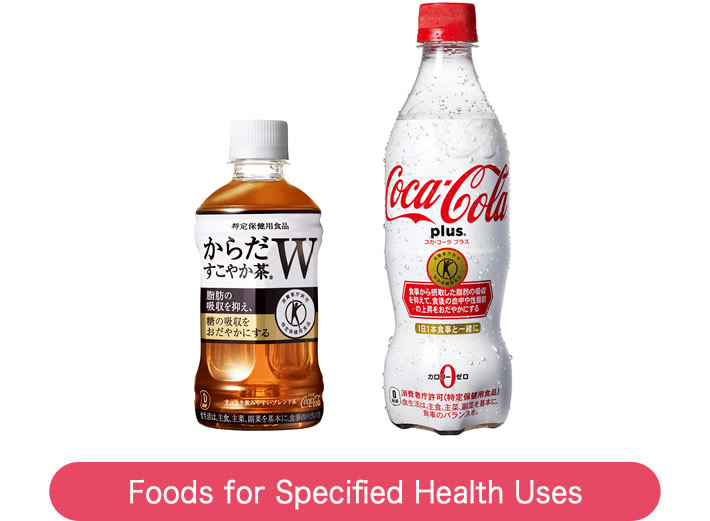 ● Launch of our first Aojiru product
In December 2016 we launched our Aojiru drink with fruit juice, "Minute Maid Oishii Fruit Aojiru", under the "Minute Maid" juice brand. This is the first collaborative product with our group company Q'Sai Co., Ltd.
The Aojiru drink uses high-quality kale grown in Japan with no pesticides or chemical fertilizer under a rigid management structure at Q'Sai. Kale has received high recognition in recent years as a "super green and yellow vegetable" with excellent nutritional value among the many vegetables and fruits in the market.
*Sold in Coca-Cola vending machines in our business areas and through the Q'Sai official internet site.
● Foods with Function Claims
Foods with Function Claims are products expected to provide benefits for specific health use that have been submitted to the Ministry of Consumer Affairs under the responsibility of the business entity. However, unlike FOSHU, the products have not been evaluated by the Ministry of Consumer Affairs.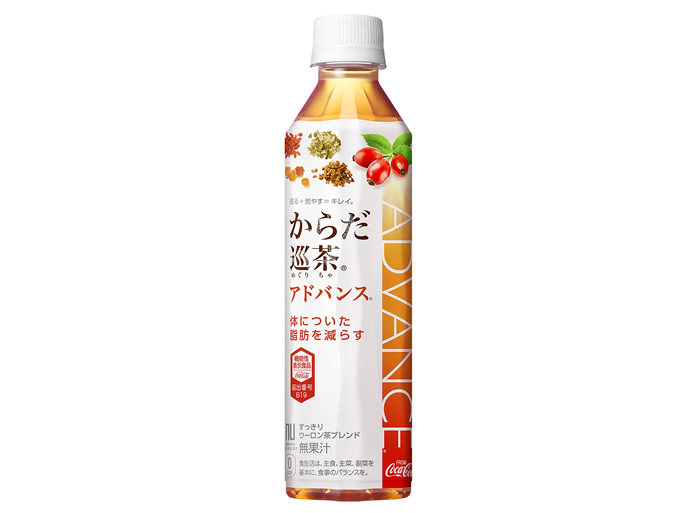 ● Various package sizes
We offer various package sizes to match consumers' tastes and drinking occasions.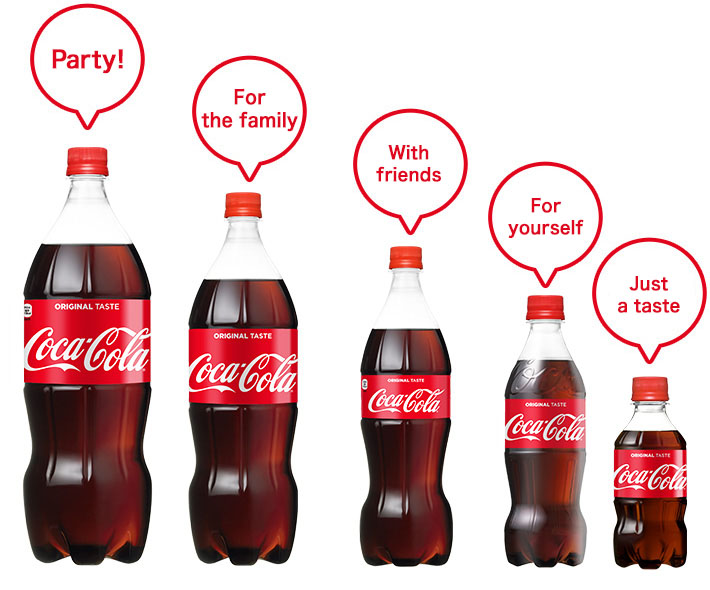 ● Coke ON vending machine
A new service that uses a smartphone app (Coke ON) to collect stamps with every purchase. 15 stamps can be exchanged for one product from a vending machine.
We deliver new and unique buying experiences to consumers using the smartphone app.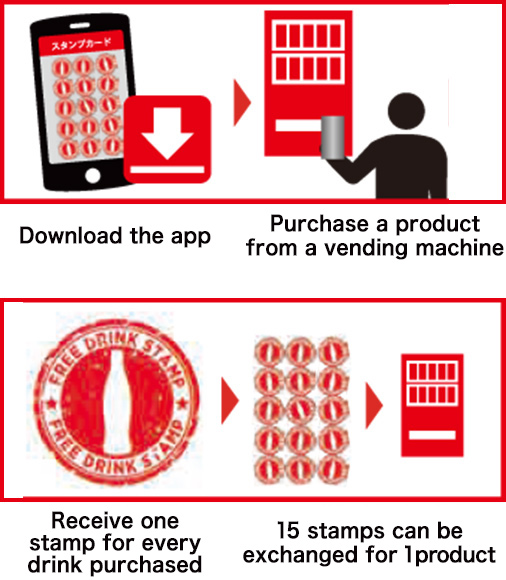 ● Multilingual vending machines
Aside from launching multilingual vending machines, we have begun offering product information in 15 languages using smartphones.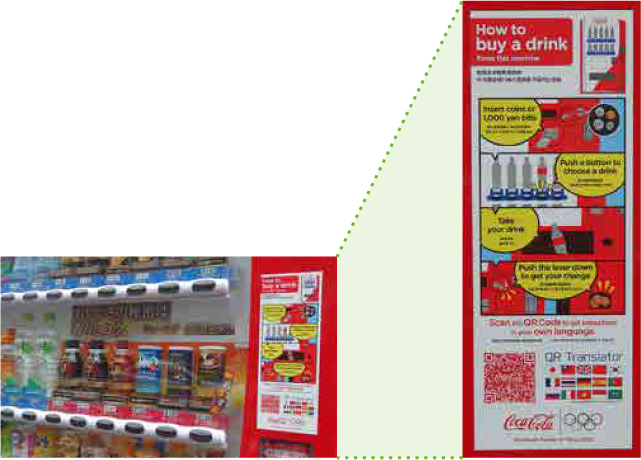 ● Product information
Information on the product ingredients is displayed on the package, and we constantly strive to devise new ways to communicate information in a manner that can be easily understood by the consumer. Furthermore, calories are indicated on the front of the package for nearly all Coca-Cola products to aid the consumer in selecting a product. We will continue to provide correct product information to assist consumers in creating healthy lifestyle habits.