"Why I work for Coca-Cola Bottlers Japan" #4 Hiromi.S, Coca-Cola Bottlers Japan Vending Inc. South Kagoshima BO
December 27, 2021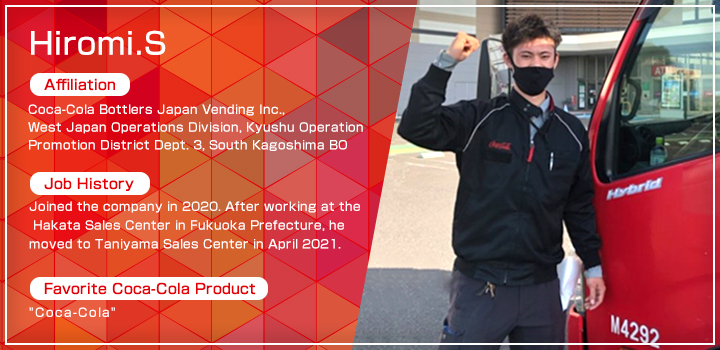 The source of my happiness is the voice of our customers saying, "It was delicious"
We carry out our daily operations with the aim of achieving our "mission" of delivering happy moments to everyone while creating value.
In "Why I Work at Coca-Cola Bottlers Japan" series, we focus on some of the people who work at our company and interview them about what kind of work they do to deliver happy moments.
For our 4th installment, we interviewed Hiromi-san, who is in his second year at Coca-Cola Bottlers Japan Vending Inc., working at the South Kagoshima BO Taniyama Sales Center.
――Why did you choose to work for Coca-Cola Bottlers Japan Vending Inc.?
I liked Coca-Cola so much that a friend once gave me a case of it as a birthday present, and I also admired it because I'm from Fukuoka Prefecture and often passed by the headquarters of Coca-Cola West*. When I was looking for a job, I applied to Coca-Cola Bottlers Japan Vending because I wanted to be involved in vending machine operations, which is the cornerstone of our company's business. During my final interview, Baba, Representative Director and President of Coca-Cola Bottlers Japan Vending Inc., told me, "If you find something you want to do, give it a shot." That was the deciding factor for me to join the company.
*In 2017, Coca-Cola West merged with Coca-Cola East Japan and other companies to form the current Coca-Cola Bottlers Japan Inc.
――Can you tell us about your current job?
My main tasks are product replenishment and other vending machine operations. In the first year after I finished my training, I was based out of the Hakata Sales Center in Fukuoka Prefecture, but in April 2021, I was transferred to the Taniyama Sales Center in Kagoshima Prefecture. At first, my senior colleagues taught me how to do the job one-on-one, and now I am on my own in a route car. Currently, I am in charge of two routes per day, one focused on a large commercial facility and the other with a ferry terminal. Since I visit upwards of ten vending machines per day, sometimes I'm in the commercial facility all day long.
――What do you pay attention to when you do your main job, the operation of vending machines?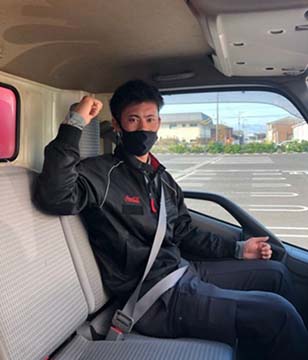 I look carefully at the contents of the empty container boxes. They contain a variety of empty containers, some of which are made by other companies, so I check which product categories and sizes are selling well. The products in them vary completely depending on the location and season, so I think about which products would sell well in this vending machine, and use this as a hint for product replacement. I'm happy when the products that I introduced based on my hypothesis have good sales results.
――Have there been any changes in your image of the company after you started working here?
Before I joined the company, I was on a sports team, so I worried that my senior colleagues would be too strict. When I actually started working here, I found that even though they're busy with work, my supervisors and senior colleagues are very kind, and the employees got along well with each other, so I'm having fun. The work was physically demanding, as I had heard from my senior colleagues. However, since last year we have been streamlining our operations by doing things like dividing the labor of loading products to be used the next day and settling accounts, which used to be done after returning to the office, and getting rid of our daily morning meetings and holding them using company-issued smartphones instead.
――What is a "happy moment" at work?
I'm happiest when clients and customers tell me something was delicious!
Since I have many opportunities to communicate with customers, I try to make them smile. I was once asked, "Don't you sell hot Coca-Cola?" and this question made me realize that customers have various demands. I also learn a lot from the customers I visit, as they often ask me about vending machines.
――It must be great to get their direct feedback! So, what do you do during your time at home, which has increased recently due to the COVID-19 pandemic?
I've been watching movies. I watch a lot of action movies, especially Western movies. Horror is not my thing. I've also been fishing, since you don't have to be in close contact with others. Kagoshima Prefecture has many fishing spots, so I've been enjoying myself. In this region, you can catch largescale blackfish, which I dress myself and use into sashimi or nabe. They taste really good!
――Finally, what are your goals for the future?
In the future, I would like to work in our HR or General Affairs departments. I am interested in reforming our work style, so I would like to use my experience in the field to improve the working environment for all employees.