"Why I work for Coca-Cola Bottlers Japan" #3 Maria.T, Chain Store Okayama SC
December 27, 2021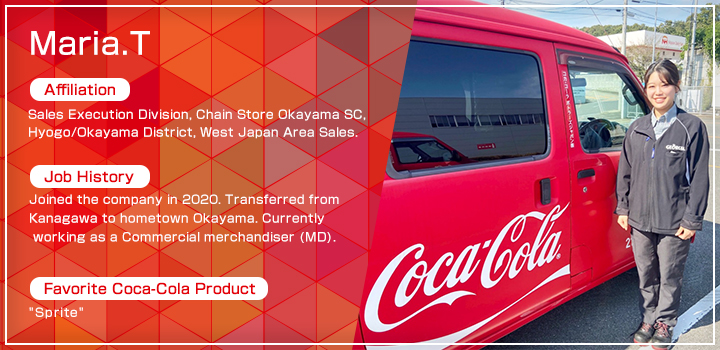 Happiness in the moment that a customer picks our product
We carry out our daily operations with the aim of achieving our "mission" of delivering happy moments to everyone while creating value.
In "Why I work for Coca-Cola Bottlers Japan" series, we focus on some of the people who work at our company and interview them about what kind of work they do in order to deliver happy moments.
For our 3rd release, we interviewed Maria-san, who has been with the company for two years and works at Chain Store Okayama SC in Okayama Prefecture.
――Why did you join this company?
While job hunting, my hope was to work in the beverage or food industry which is an essential part of everyone's lives. I was looking into various companies and Coca-Cola Bottlers Japan's mission to "deliver happy moments to everyone" resonated with me, and so I applied.
――Is there anything you did while job hunting that really helped you?
During summer vacation when my college classmates were working as interns, I went to Canada on a working holiday. Because of this, I began job hunting quite late, so I concentrated on gathering information from friends who had interned or former graduates who had experienced job hunting. Of course, it's important to research on your own, but I think it's also necessary to listen to real-life experiences and impressions to get a feel of the company.
On the other hand, I feel that I should have obtained more comments from other people on my entry sheet. There were Japanese wording errors and some of my thoughts were not conveyed properly, so this is something I really regret.
――Can you tell us about your current job?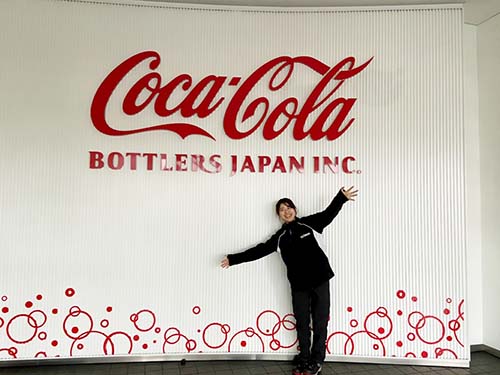 I work as a merchandiser, often known as MD. My main duties is to help create sales floors that contribute to increased sales for our customers in supermarkets and discount drug stores. In addition to delivering and displaying products and checking stock levels, I also follow up with customers by maintaining and organizing the sales floor, such as decorating POP displays to highlight the appeal of our products. I also propose ways to create an effective sales floor, such as placing our products together with other products like bread, etc. for synergistic purchase.
――How is the atmosphere in the workplace?
There are 17 members, and the site is divided into Okayama and Kurashiki. The workplace has the feel of 'let's all do this together!'. The SC Manager is very cheerful, and all the senior employees are fun to work with. There are also many veterans with a lot of knowledge who are friendly and kind and teach me new things. I feel how much care they put into helping me grow.
――Please share with us a 'happy moment' that you resonated with in our mission.
Each customer operates in a different environment, such as location and consumer groups, etc., so I make a point to understand those differences and to propose sales floor that contribute to sales. I feel happy when those proposals are accepted and used, or when I see a consumer in the store actually picking up our product! I'm also happy with a "thank you" from the customer, or if I didn't visit a customer on my day off and the customer comments the next day, "I missed you. Make sure to stop by!" This is very motivating.
――It's really nice to receive comments like that from customers that you frequent! Next, which of the MVV values (Learning, Agility, Result-orientation, Integrity) are you most focused on?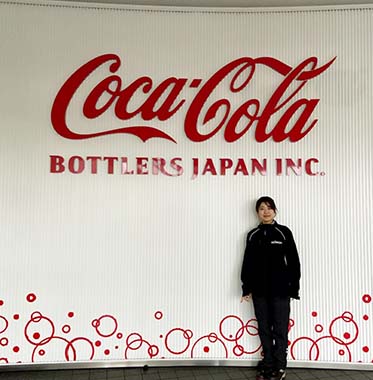 I'm most focused on Learning because I think that it's important for me to improve my skills. The company supplements part of the lecture costs, and there are also courses that offer reimbursements if you finish with good grades, so I make use of these opportunities. I also feel it's important to study with others. In my Sales Center, we started talking about increasing our English skills to accommodate customers from diverse backgrounds, so I proposed the idea to speak in English for 10 minutes every Monday morning. Our SC Manager was all for it, and we are currently working on it!
――It sounds like fun! This is our last question. What do you have in mind as your future goal?
My goal in three years is to go into category planning. I think my current experiences in the commercial field will serve as an advantage, and I would like to be involved from a broader perspective. And one day, I hope to share our know-how with other bottlers overseas, or to take training at an overseas bottler and learn about efforts that we can incorporate at CCBJI.