"Why I work for Coca-Cola Bottlers Japan" #2 Coca-Cola Bottlers Japan Business Services Inc., Rurina.N
December 23, 2021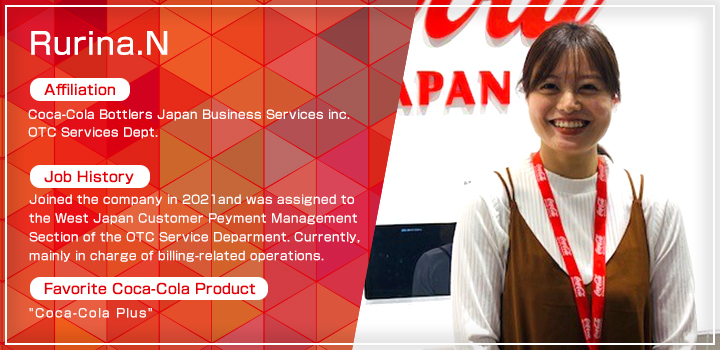 I'm happy when there's more work I can do, and when I've shown results.
We carry out our daily operations with the aim of achieving our "mission" of delivering happy moments to everyone while creating value.
In our "Why I Work at Coca-Cola Bottlers Japan" series, we will focus on some of the people who work at our company and interview them about what kind of work they do in order to deliver these happy moments.
For our 2nd installment, we interviewed Rurina-san, a first-year employee of West Japan Customer Payment Management Section who works at Fukuoka's Yakuin Office.
――Why did you join this company?
I submitted a job application for Coca-Cola Japan Business Services Inc. (hereinafter, CCBJBS) which handles indirect operations for the Coca-Cola Bottlers Japan Group, because I wanted to work in a job that supports workers to achieve their full potential. I decided to join CCBJBS because the content of the work matched my expectations and the company had an excellent external reputation for its shared services.
*Please see here for external evaluations on our company.
After joining, I found that the work was just as I had imagined it, so there was no gap. I'm glad I chose this company because it offers flexible ways of working, including Super Flex, and there's also the appeal of dressing casually promoted by 'Sawayaka Style'.
――Tell us about your current job and what you are working on lately.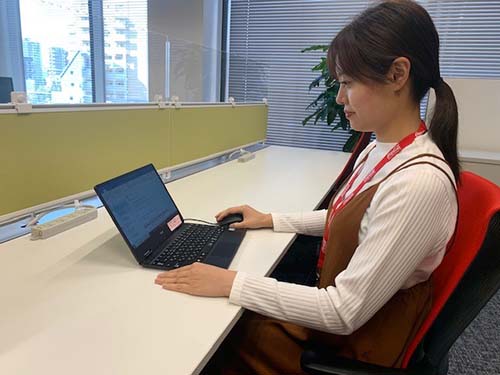 My main job is back office work, including accounting and sales office work. Recently, we are working with external vendors to pay commissions and charge accounts receivables to customers with vending machines installed. Naturally, we focus on doing things efficiently, but we also make sure to run proper checks to prevent mistakes. I pay particular attention on checking billing-related documents and other matters that involve numbers to ensure that there are no mistakes.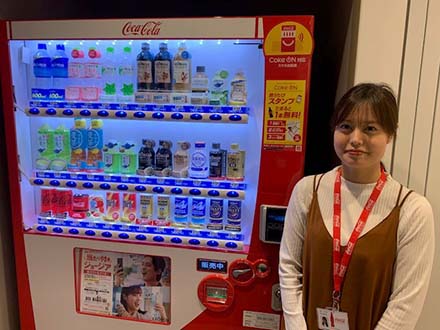 ――How is the atmosphere in the workplace?
There are seven members in my section, six female employees and one male employee. Everyone is cheerful and fun to work with. One time, I made a printing error, but even in such a small instance like that, the team was easy to talk to and very cooperative. There are also colleagues at the office who joined in the same year as me, and we have lunch together when I'm at the office, and it's a nice way to refresh.
――What is a happy moment at work?
I feel happy when I have more knowledge about work or when there's more work that I can handle. At CCBJBS, we submit an OE Activities (business improvement activities) report at the end of every month on things improved or that can be improved in our day-to-day operations. For example, when I joined the company, the cover page for invoices sent only once a year were printed individually each time, but I decided to print them together and keep them stored, which led to reduced paper and time. It may be small, but I'm happy when there are improvements in my day-to-day tasks.
Recently, as I learn more about my work, I have a stronger desire to know more about the job and to become a powerful work force, and I am now studying bookkeeping!
――Which of the MVV values (Learning, Agility, Result-orientation, Integrity) are you most focused on?
Integrity. This is something I also value in my private life. I have the impression that when there's someone at work who practices "Integrity", it has a very positive effect on the work environment. And it creates a synergy that makes the people around them better. I feel that creating a good atmosphere has a positive impact to motivate the surrounding people and will increase productivity as a result. I learned through work that if you act with integrity, however small, it spreads to the people around you, so this is something I will continue to value.