Delivering true voices of the Plant Managers! "Voice of the Plant Manager Series" Vol.2 Ebino Plant Manager Watanabe
August 26, 2021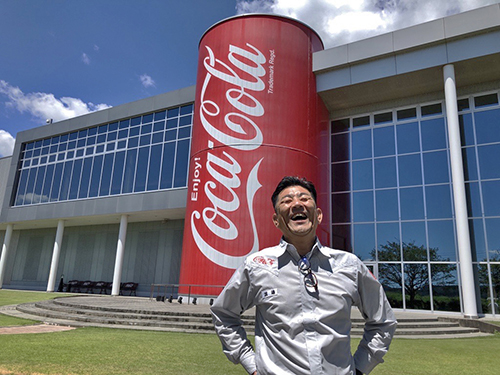 Coca-Cola Bottlers Japan delivers safe and secure Coca-Cola products from 17 plants operating in 38 prefectures. The "Voice of the Plant Manager Series" introduces the charm of each plant that plays a role in manufacturing function in an interview format. In the second issue, Watanabe Plant Manager who manages both Ebino Plant and Kumamoto Plant shares information mainly on Ebino Plant this time.
――Please give us a brief introduction of yourself!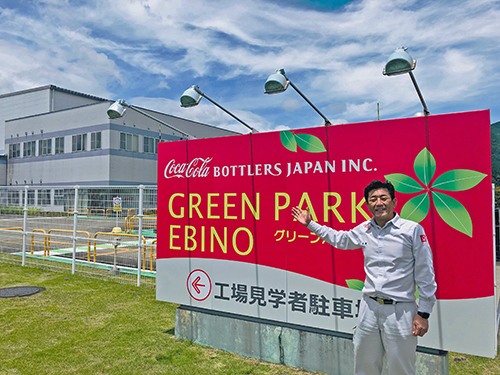 Hello everyone. I am Watanabe, Plant Manager of Coca-Cola Bottlers Japan Ebino Plant and Kumamoto Plant. I have been working for the company for 28 years, and became the plant manager of the two plants this year.
I am from Fukuoka City, where there is a lot of good food such as Tonkotsu Ramen, Motsunabe, Mizutaki, and Mentaiko. So, I always look forward to going back home!
――What made you decide to work for the company?
The first time I was conscious of working was when I was in the sixth grade of elementary school. At the time of the 1982 torrential rain disaster in Nagasaki, I saw the Self-Defense Forces working to save people's lives and restore the area from the disaster on TV, and I wanted to engage in work that can be of help to people.
As I grew up, I was influenced by the American culture through movies and music, and had a strong longing for the Coca-Cola brand. I joined the company with the hope that I can be of help to many people by delivering Coca-Cola products that are loved by many people.
――Please tell us about Ebino Plant.
Ebino Plant is situated in an extensive natural area near Kirishima-Kinkowan National Park, and about 90 employees are currently working at the plant. It also offers plant tours, and the "Coke Hall," a plant tour facility, has many social-media-worthy locations.
In addition, it is not only a plant tour facility but also a park, called "Green Park Ebino," which is familiar to locals. It also has a large flower garden and a lawn garden where children can run about!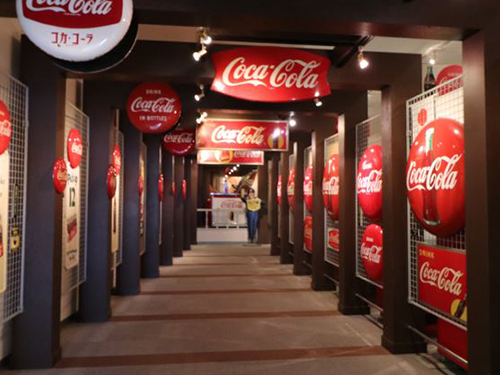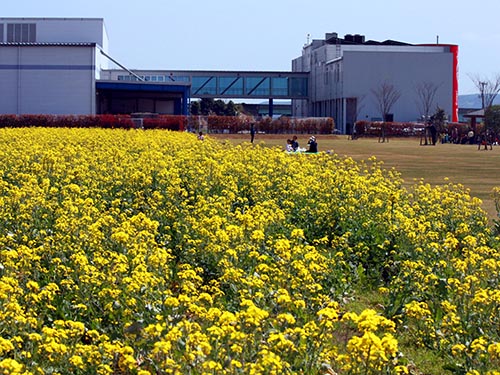 It is also a tourist spot in the southern Kyushu area. Please do come and visit us when the current situation settles down.
*The plant tour has been suspended for the time being to prevent the spread of COVID-19 infections.
We will inform you via the company's official website as soon as we decide when to resume.
For more information about "Green Park Ebino," visit here(Japanese).
――It is rare that a plant boasts itself as a tourist spot! Are there any other sightseeing spots around the plant?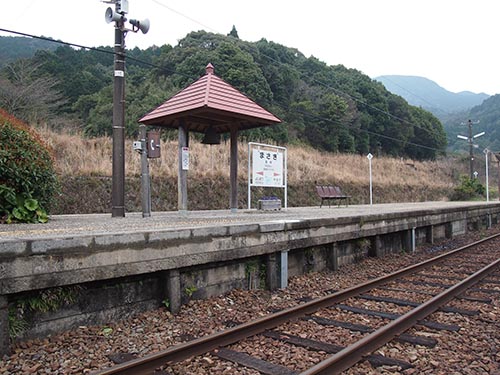 There is Masaki Station on the JR Kyushu Hisatsu Line, nicknamed "Ebino Kogen Line," in the mountain area of Ebino City. The station is located about 10 minutes by car from Ebino Plant. It is also known as the first station in Miyazaki Prefecture. A "bell of happiness" is set up at the center of the platform of the station, in connection with the name of Masaki Station, which means "true happiness." People who wish their happiness visit the station to ring the bell. Furthermore, the train tickets which can be purchased at Masaki Station are very popular.
It is a historic station which was built in 1911 and has remained untouched since then.
――This spot has an element of our mission, "Deliver happy moments to everyone while creating value." Finally, please tell us about your "happy moment you had recently".
It is when I took up my appointment as the plant manager of Ebino Plant on June 1 of this year and the members welcomed me warmly.
When I am assigned to a new workplace, I tend to be very nervous. So, I really appreciate that they warmly accepted me.
Watanabe Plant Manager will share more information mainly on Kumamoto Plant on the third issue.