[Employee Interview] Tips for balancing work and childcare #1
May 16, 2022
I want to shine as an employee of Coca-Cola Bottlers Japan, as a woman, and as a mother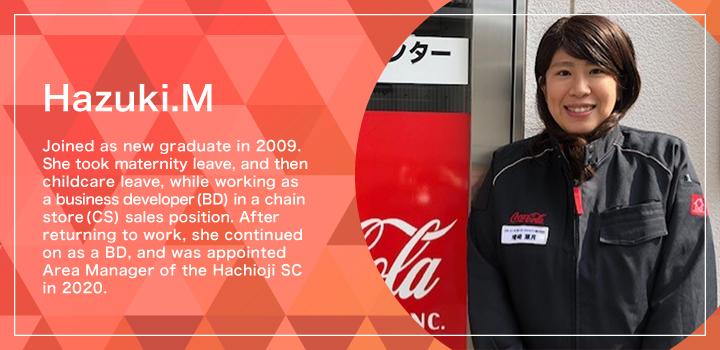 The Coca-Cola Bottlers Japan Group regards the promotion of diversity and inclusion (hereafter "D&I") as one of the essential business strategies for our continuous development. We are working on various initiatives aimed at creating a comfortable working environment for everyone and implementing flexible work styles suited to our employees' respective lifestyles.
In this interview, we talked about how she balances work and childcare, the things she worries about, and the state of her career after having a child.
The words of my team members helped me when I was struggling
―Please tell us about your past experiences and current job.
I joined Tokyo Coca-Cola Bottling, the predecessor of Coca-Cola Bottlers Japan, as a new graduate in 2009. After working as a CS merchandiser (MD), I became a BD, which is a sales position. I gave birth while I was working as a BD. In August 2020, I was promoted to a managerial position, Area Manager, and I am currently working at the Hachioji CS, where my main responsibilities are team management and sales activities for area supermarkets, drugstores, and discount stores. My CS has nine employees, including myself. There are 5 men and 4 women. Many of us are young, but we also have veterans on our team who support me in my work.
―So you've been focused on sales your whole career. Have you always wanted to become a manager?
Ever since I was a new employee, I would tell my supervisors during my performance evaluations that I wanted to become a CS Area Manager. I kept saying that for a long time, and my supervisors were really supportive, so I was able to make that career a reality.
―Did you face any difficulties after becoming a manager?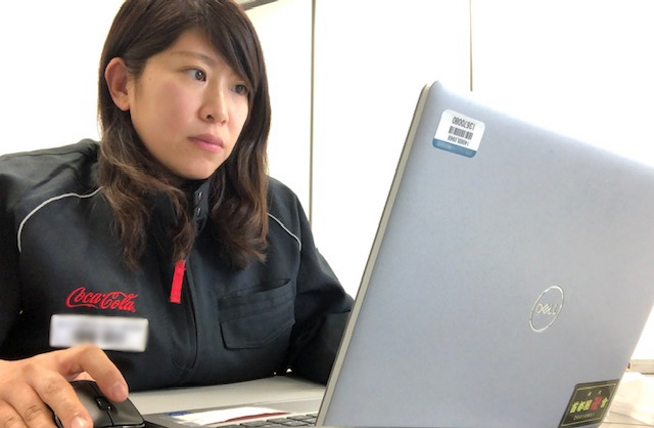 When I became an area manager, my supervisor followed up with everyone at the Hachioji CS in advance to create the right environment for me, so I had no particular problems.
I did start struggling when I became a manager. I would feel guilty about taking time off to take care for my sick child, because I thought I wasn't doing my job well enough. I had also assumed that managers were supposed to arrive at work before everyone else, and look everyone in the eyes before leaving. It was difficult for me to reconcile the gap between that image and reality. Because of that, I was honest with my members about what I hadn't been able to do and what felt painful for me. When I did, they weren't as concerned as I thought they would be, or rather, they were quite accepting of me. At that time, they told me that I could tell them anything, which changed my mindset. Now, I rely on my members in a good way.
―What have you been working on as a manager?
Since becoming an Area Manager, I have been focused on promoting D&I. That's because, although there are nine SCs in the Tokyo District Sales 2 Department to which the Hachioji SC belongs, I am the only female area manager. The percentage of female employees across the entire Tokyo District Sales 2 Department has increased over the past few years, and I would like to lead the department by promoting D&I in this area in order to create a workplace where everyone can work comfortably. I hope that I can be useful by helping everyone deepen their understanding through activities that only I can do, such as hosting study sessions and providing opportunities to talk with female employees at other SCs to help them solve the issues they face at work.
D&I promotion is also one of the Hachioji SC's slogans, and we aim to be a leader for the other SCs.
I was worried about my career after taking maternity/childcare leave. My supervisor encouraged me to try balancing them both.
―Tell us about your maternity & childcare leave. How long were you on leave?
I took a total of about 10 months off for maternity and childcare leave. By law, you can take maternity leave 6 weeks before your expected due date, but I used my paid leave to start my maternity leave early. I went on leave in July 2018, gave birth in August, and returned to work in April of the following year. At the nursery schools where I live, admission was more competitive for 1-year-olds than for children less than a year old, so I adapted my leave to that time frame.
―What were some changes you experienced before taking maternity leave and after returning to work?
I took maternity leave while I was working as a BD. Since there were no senior salespeople around me who had ever taken maternity or childcare leave, at the time I was concerned about my career, and I wondered what would happen after I returned to work. At that time, I had a meeting with my supervisor, who encouraged me by helping me work on my career plan and think about how to rise through the ranks after returning to work, so I decided to try my best at balancing my career and childcare. It also gave me a chance to think about being able to show my junior colleagues how I returned to work after taking maternity and childcare leave in a sales position.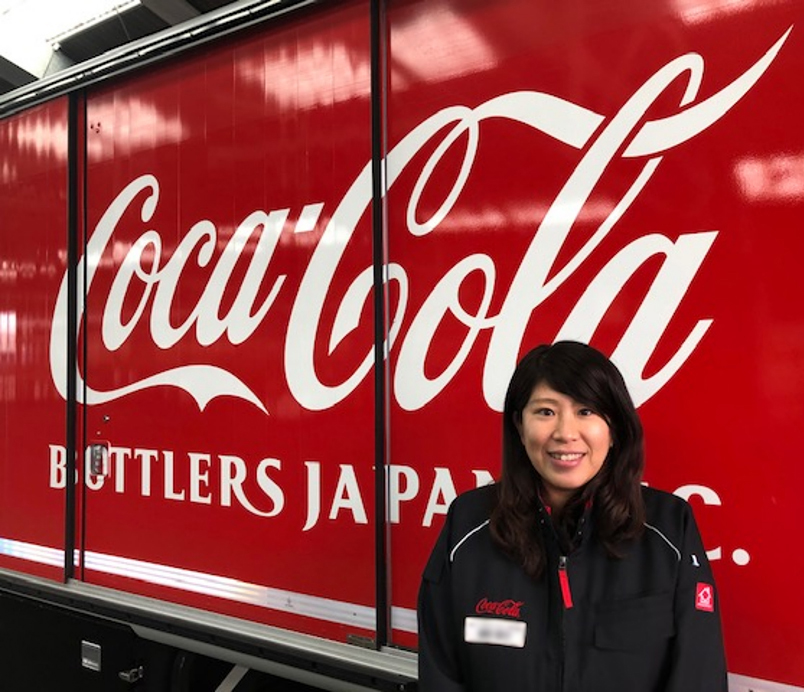 After returning to work, I worked a shortened shift from 9:00 am to 4:30 pm. At first, I was trying to give 100% effort in both my work and personal life. However, as that went on, I keenly realized that I was running out of energy, both physically and mentally. Both parts of my life are important to me, so I had to decide on certain points in my mind and relax in order to balance them. Even so, I was conflicted at first, and especially after becoming a manager, I struggled with the thought that it would affect not only my work but also that of my team members. I felt bad that I was getting everyone involved in my personal life. Many employees, regardless of their gender, have probably felt this way when balancing work and childcare. In times like that, it's okay to ask those around you for help, and I think it's important to speak up, like I did with my team members.
Connecting with others has helped me to overcome the problems of balancing work and childcare
―-Please tell us about any problems or difficulties you had in balancing work and childcare.
It was difficult for me to find the right balance emotionally, and although my husband and I discussed and divided domestic matters evenly, this was a hard hurdle to overcome. Work took up a lot of space in my mind, and I didn't have any leeway. Sometimes I was frustrated that my environment didn't allow me to be kind to my child or to devote myself to my work. At the same time, I was worried that my mindset would affect my child, and I felt guilty for that.
―What did you do to get out of that situation?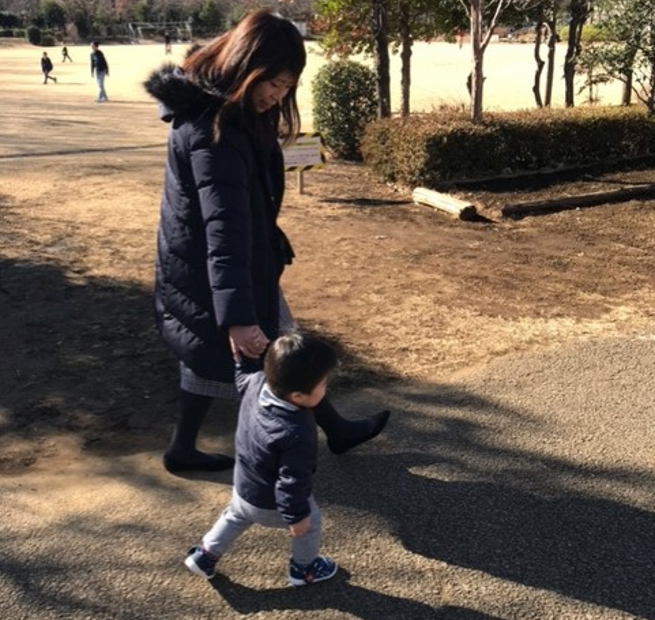 I consulted with a senior employee. I had the opportunity to interact with people of all ages from different locations and departments through the "Accelerate Her" training for female managers that I attended last year, as well as the "Women in Commercial" event where female employees in sales roles gathered as volunteers to discuss their working styles. I called someone I met there and asked for advice, and her opinion came from a different point of view than my own, which really expanded my options. I received advice that has stuck with me from seniors who already experienced the problems I am currently facing, and this has helped me change my way of thinking. This was all thanks to the trainings and the system that the company provided to connect people with each other.
Maximize performance in a limited amount of time
―Please tell us about the company systems you use to balance work and childcare, as well as what you've come up with on your own.
I've been making use of shortened working hours and telecommuting. When I was a BD, I worked a shorter shift from 9:00 am to 4:30 pm. Since I became a manager, I have been managing my time to work similarly shorter hours, because my working hours are different from those of a non-management employee. I also chose to work from home two or three days a week after consulting with my supervisor and team members. Sometimes I come to the SC in the morning and switch to working from home in the afternoon. I appreciate that my members check my schedule and support me in creating a flexible and accommodating working environment. Additionally, I use other available company systems, such as Gradual Entry Leave and Sick/Injured Child Care Leave. I recommend that you feel free to use the company's systems, for the sake of your own health as well as your child's.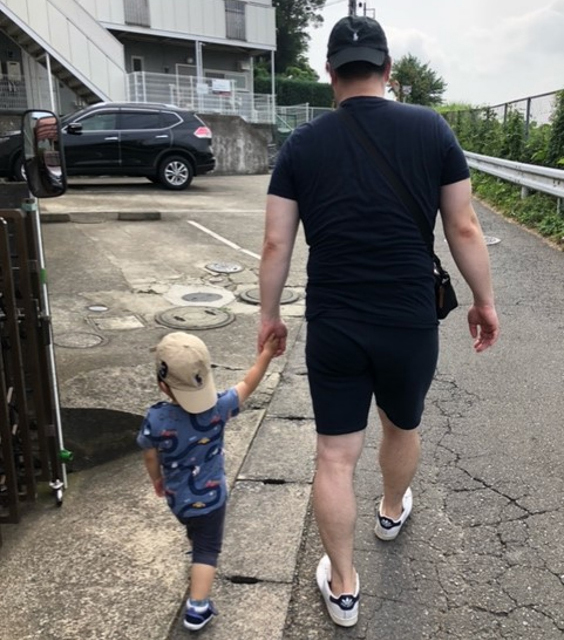 As for what I came up with myself, especially when I was in the BD position, it was always possible that my child would get sick on the day or at the time of an appointment with a client and I would have to drop out on short notice, so I tried to explain the situation honestly in advance and suggested ways to avoid inconveniencing the client and to gain their understanding. Since my working hours were limited, I was consciously thinking about my value and not just my time. I was always thinking about how I could perform to the best of my ability, and that was the secret to staying motivated.
Some may think that it is difficult to balance work and childcare once you are in a managerial position, but you can do it by making effective use of company systems and managing your time, regardless of your position.
It's important to regain your sense of self by enjoying the things that you love
―What do you do when you want to refresh?
Tennis. I played tennis from my first year of elementary school until I graduated college. I quit when I entered the workforce, but took it up again after I became a manager. I practice and have matches once a week for about two hours. In my case, I play tennis, but whatever you like to do, I think it is important to have a moment to regain your sense of self as a person, not as an employee, wife, or mother.
―Finally, can you offer some advice on balancing work and childcare?
I want to shine as an employee of Coca-Cola Bottlers Japan, as a woman, and as a mother. Regardless of your position, even if you're a manager, you should be able to achieve your desired life plan and become who you want to be. A senior colleague with whom I discussed my worries told me, "I have a kind of circle in my mind for my work and my personal life, and in order to balance them both, I change the size of those circles, by which I mean their level of priority and the amount of effort I give them, in each situation. If both of them are at 100%, you get tired and can't keep going. That's why I think it helps to change the ratio depending on the situation". I maintain the balance with the help of other people. This doesn't mean that I'm cutting corners, nor is it a bad thing. I think that this is what it means to strike a balance.
The Coca-Cola Bottlers Japan Group will continue to promote D&I and create a diverse working environment, creating a working environment where employees with various backgrounds and values will not forget their aspirations to learn.