Introducing a uniform and "the assist tool" for our operation staff who support running approx. 700K VMs
August 19, 2021
Coca-Cola Bottlers Japan is going to let operation staff who carry out product refilling and maintenance of approximately 700,000 vending machines deployed in 38 prefectures in our sales territory wear "a summer style" from this year to help prevent heat stroke. We will introduce you details of the uniform, together with the "assist tool" introduced last year.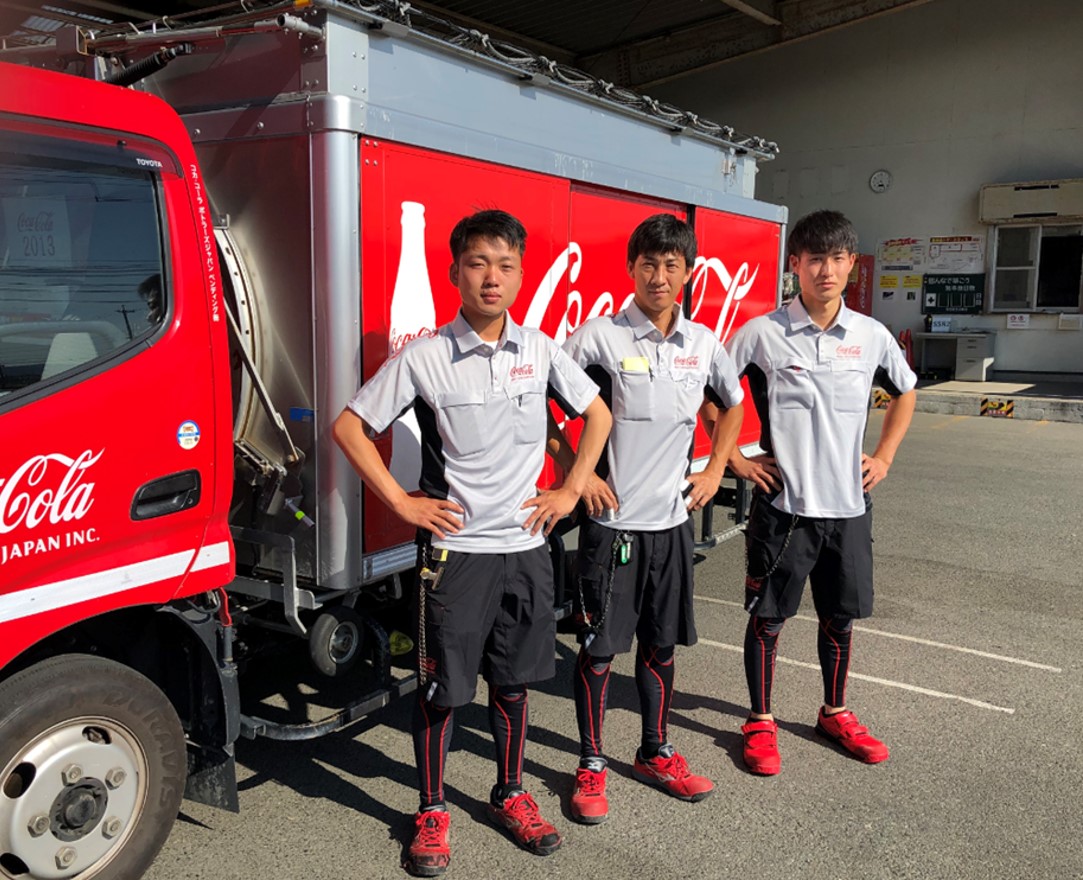 The traditional uniforms are a long-sleeve/short-sleeve shirt with pants, and with blouson in winter, whereas the new "summer style" now available is a set of 3 items comprising polo shirt, shorts and assist tights. Person in charge wears either one depending on the weather.
(The assist tights were introduced in July last year. Check the news release for details)
Our uniform is actually equipped with elaborate functionalities attentive to details. It was December 2018 when the current design was adopted. Although staff wore different uniforms by the operating company immediately after the integration of Coca-Cola East Japan and Coca-Cola West (January 2018), introduction of the new uniform fostered a sense of unity. The design emphasizes comfort and mobility by incorporating the voices of employees who wear it. Functional aspects are also well considered with improved safety by using reflective materials for greater visibility in darkness, with better breathability having ventilation at the back of the short-sleeve shirt for air circulation etc.
"Summer Style" is introduced for the season.
Adoption of a compression type "assist tights" is expected to alleviate physical stress on the legs.
Most of the tasks of vending machine operation staff are done outside after getting out of route cars, widely ranging from loading/unloading to replenishment of products on vending machines. "Summer Style" is designed with more focus on functions considering work efficiency as summer officially nears. Polo shirts have been meticulously crafted, including the making to allow better movement around the arm. And a compression type "assist tights" was introduced in July last year to streamline operations and alleviate physical stress. The assisted tights are our original clothing made based on "scientific" analysis of body movements associated with VM operations.
Although many of you might imagine inner clothing that sports players or athletes wear in games and practice when hearing "compression wear", recently, the superior functions have made it more widely used as a work wear, and we have introduced it also.
From 2018 to 2019, Fukuoka University (Professor Hiroyuki Nunome, Department of Sports Science) and sporting goods manufacturer Mizuno analyzed the physical burden and movements associated with vending machine operations. It has been found that the vending machine operation work has a significant burden on the lower body, and tools that support round the waist and lower legs are effective in reducing the physical stress. Compression tights were designed to apply moderate pressure to each of the parts of the lower body, such as thighs and calves expected to reduce fatigue and strain on the legs. Therefore, they were very suitable for our vending machine operation staff. They have been around a year since introduction and are very popular among the staff who wear them, receiving comments like "less tired" and "feel supported when crouching down and standing".
In order to enable vending machines to continually play roles of being close to people and highly convenient in everyday life, staff wearing "summer style" will be engaged in vending machine operations in our sales area from this summer.