Global Goals Week (SDGs Week) in mid-September - Sustainability activities of Coca-Cola Bottlers Japan
September 30, 2021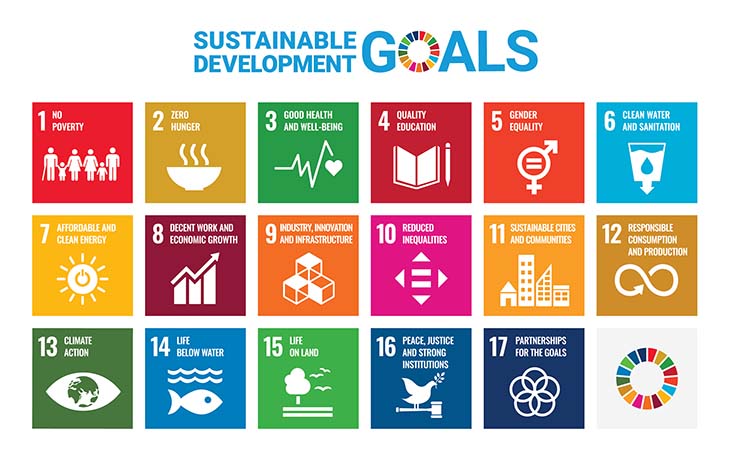 About a week, including September 25 (GLOBAL GOALS DAY), the date on which the SDGs were adopted in 2015, is the "Global Goals Week (SDGs Week)" to raise awareness of the Sustainable Development Goals and calls for actions. This year, September 17 to 26 will be the week.
At this time when the whole world will become aware of activities to change the world, we will introduce the sustainability activities of Coca-Cola Bottlers Japan.
■ In addition to our global goals, we have set targets for resolving issues in Japan
We aim to create both social and economic value and achieve sustainable growth by using water and other indispensable natural resources responsibly to provide all our customers high-quality value-added products, while working in collaboration with The Coca-Cola Company and the members of the Coca-Cola system in Japan.
Above all, in order to resolve issues in Japan, we have set nine priority issues based on three platforms: "Inclusion," "Resources," and "Communities." In each domain, we will examine the impact of our activities against the sustainable development goals (SDGs) and help to address social issues by also working toward the achievement of the relevant SDGs.
The following three platforms demonstrate specific initiatives: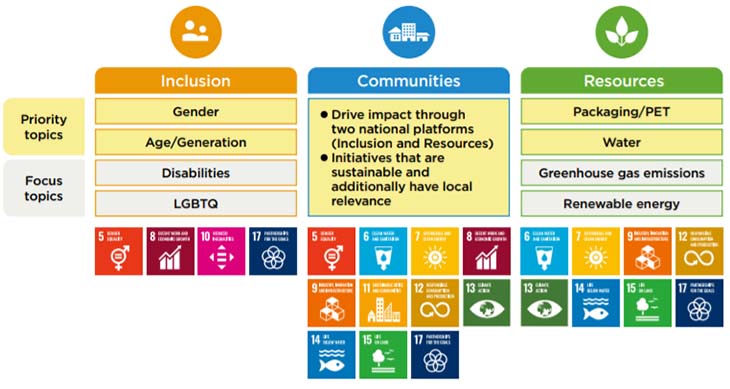 ■1. Inclusion - Revise internal regulations to offer equal opportunity for LGBTQ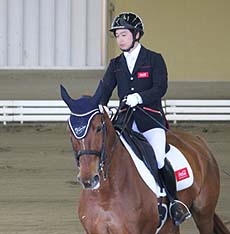 Katsuji Takashima, a para equestrian
We respect diversity of each employee and provide opportunities for them to fully use their potential, regardless of their gender, age, disability, race, nationality, sexual orientation, gender identity, sexual expression, and any other personal attributes, and work-related constraints.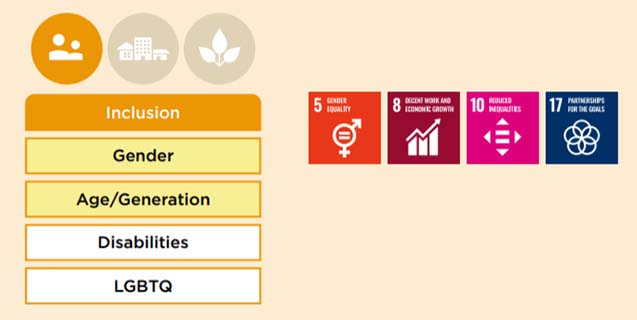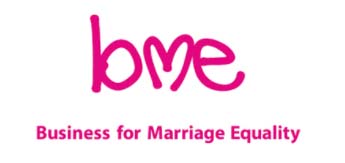 Last year, in order to provide equal opportunities for diverse employees and sexual minorities (LGBTQ) within the company, we revised the definition of spouse in our internal rules (employment regulations, etc.) from January 2020, allowing employees to use benefit programs such as childcare leave and nursing care leave regardless of their partner's gender or marital status.
Most recently, we have set up an LGBTQ consultation service within the company so that employees from diverse backgrounds, including LGBTQ, can consult with us about their concerns and coming out, as well as questions and concerns that their supervisors and others around them may have.
More information on inclusion is available at here.
■ 2. Efforts with communities - Community collaboration programs aimed at solving community issues
We value the irreplaceable assets of partnerships with communities where we live and work, respond to diverse needs and high goals, and utilize the potential of communities to promote the activities of each platform.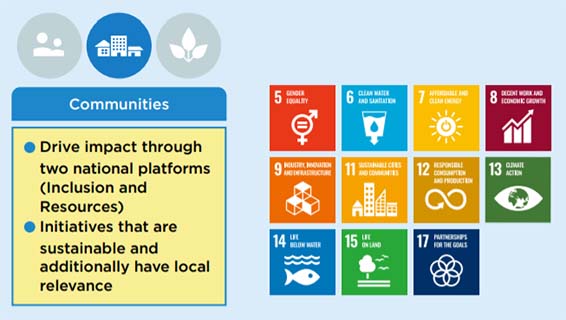 <Example of a community collaboration program aimed at solving community issues, "Sendai Youth Award">
Ever since the Great East Japan Earthquake, young people have been actively engaged in activities aimed at solving social problems in Sendai City, otherwise known as "university town Sendai". Recently, the impact of Covid-19 has caused new social challenges. The Sendai Youth Award accepts entries from youth organizations based in /around Sendai City and recognizes their outstanding efforts, so that many young people can learn about their activities, and promotes community-building through collaboration with the citizens where young people can be more active.
More information on communities is available at here.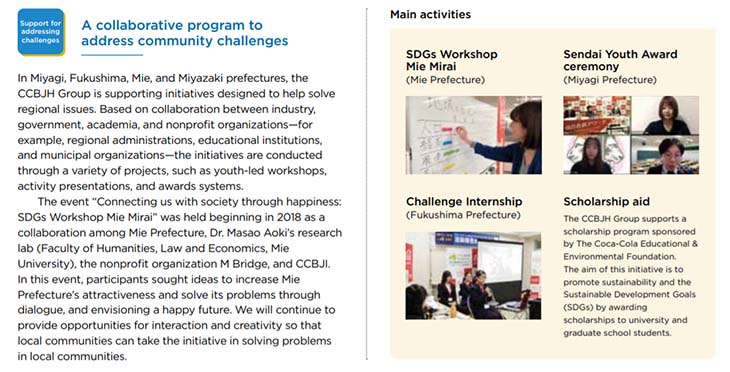 ■ 3. Resources - Efforts for packages/PET bottles around you
We continuously improve and devise resources to make sustainable use of them, while contributing to environmental conservation in Japan.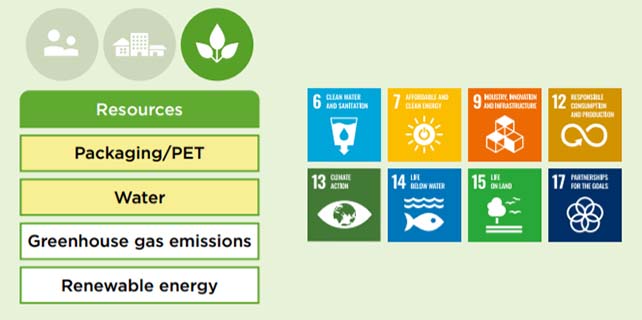 PET bottles are not waste but resources - Promoting introduction of "Bottle-to-Bottle" 100% recycled PET products
"Bottle-to-Bottle" 100% recycled PET products have been introduced into our flagship products such as "I LOHAS", "Coca-Cola", "Georgia", etc. and are steadily progressing toward the target. The environmentally-friendly label-less packages that require no sorting of recyclable and non-recyclable garbage is contributing to the reduction of the environmental burden especially as home consumption of beverages is increasing.
And since February 2021, we have gradually been introducing the common "Help us recycle" logo to all recyclable product packages, to address educational activities aimed at realizing a plastic recycling-oriented society.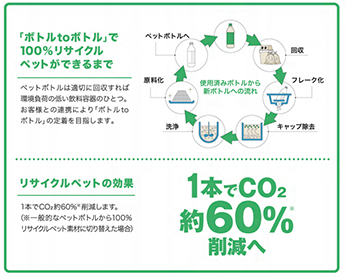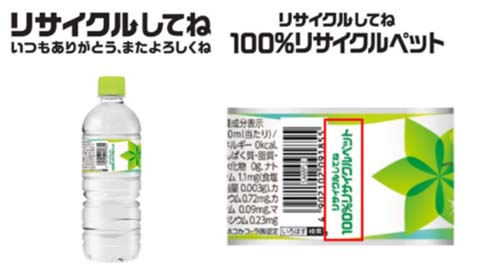 From now on, we hope that customers who purchase our products will choose "100% recycled PETs" to realize a sustainable society together.
More information on resources is available at here.
■Towards realization of a sustainable society - CSV (Creating Shared Value)
We incorporate the CSV (Creating Shared Values) concept into its management in the hope that it provides high added value to the society through business activities and continues to play a role in nurturing happiness with stakeholders, and drives its business.
Collaboration with all stakeholders is essential for achieving the sustainable development goals (SDGs).In addition to the examples we have just introduced, we are working to solve many issues towards the creation of shared value. Let's think about "sustainability" around you during the Global Goals Week (SDGs Week).