May 31st is World No Tobacco Day. Let's think about it together.
May 31, 2021
It was established by the World Health Organization (WHO) on May 31st, 1989 specifically as a day to promote smoking cessation. The week starting from World No Tobacco Day (5/31) is designated every year as the period to roll out a global campaign aimed at raising the awareness of the harmful effects of tobacco use and the importance of building a healthier society free from second-hand smoke exposure. Various related activities are carried out locally in Japan as well during this week.
*See here for more information on WNTD (WHO's official website).
*See here for more information on WNTD (Official website of Ministry of Health, Labour and Welfare) in Japanese.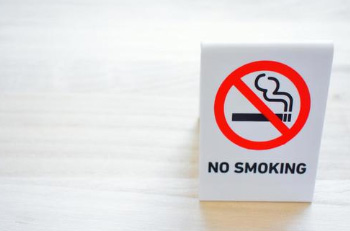 Coca-Cola Bottlers Japan is also promoting smoking cessation as part of its health management initiatives. The company has decided to ramp up its efforts to maintain and enhance the employees'health by enforcing stricter internal rules to prohibit smoking on company premises as a series of measures carried out in a phased manner to further mitigate the risk of passive smoking and onset of preventable diseases.
From Tuesday, June 1st, 2021, smoking in company-owned vehicles has been totally banned. Smoking on company premises, regardless of indoors or outdoors, will be banned completely from January 2023. In addition, the company is offering a medical support program to employees who wish to quit smoking. This program is made available to such employees at any timing they wish to start making use of it. Furthermore, the company will set a no-smoking day once a month in all its workplaces starting this June, which will be increased to once a week from January 2023.
■22nd of every month is "No Smoking Day"
Coca-Cola Bottlers Japan has set the 22nd of every month as "No Smoking Day". The company is following suit of the "Swan Swan Day" that Tobacco Control Medical-Dental Research Network is promoting every 22nd as the monthly no-smoking day. The name "Swan Swan Day" comes from the image of number "2" resembling the shape of a swan, and from the pun that "swan" is homonymous to the colloquial Japanese term "suwan" which means "not smoking".
※ Tobacco Control Medical-Dental Research Network
http://kinennohi.jp/index.html

■Health management initiative "Sawayaka Walk"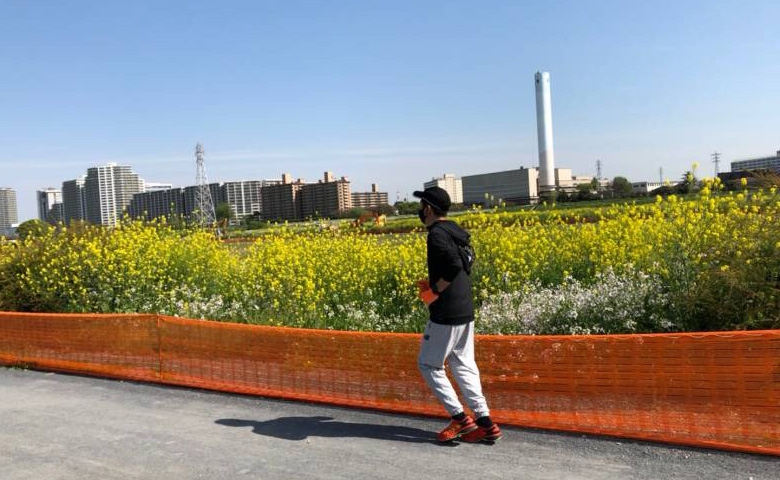 The company's guidance to implement new ways of working, such as, working from home and direct-market/direct-home style of field operations to ensure the employees'safety during the "with-COVID" period has led to a significant decrease of their opportunities to commute or travel. In conjunction with the reinforced no-smoking programs, Coca-Cola Bottlers Japan is also implementing a serial program called the "Sawayaka Walk" focused on encouraging its employees to engage in moderate physical exercises regularly.
The employees participating in this program will compete the number of steps they walk every day, using an original app developed specifically for this program, which is designed to display the total number of steps they walked per day or week on their company-leased smartphone.
This app is also equipped with a feature to display the ranking of individuals and teams that walked the most. By allowing the employees to participate not only individually but also as a team formed with their colleagues in the same organization or workplace, the program aims at promoting team-building and communication with one another to compensate for the decrease of opportunities to contact each other after many began to work remotely.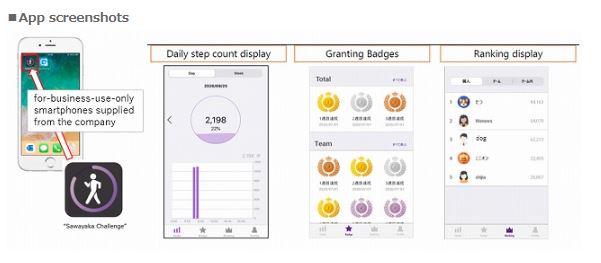 Through the consistent efforts to help the employees maintain and promote their health, Coca-Cola Bottlers Japan intends to continue providing high-quality products and value-added services as a total beverage company committed to enrich people's daily lives by delivering happy and refreshing moments at every occasion available.
The company is calling out to all the smokers in the workforce to celebrate the World No Tobacco Day together with the rest of non-smokers by rethinking about their smoking habit to pursue the common aim of building a healthier society.

■Reference: Coca-Cola Bottlers Japan Health Declaration
Coca-Cola Bottlers Japan Health Declaration
"Sawayaka Style"
~"Road to 100" Striving for a healthy body even at age 100~
As a company who always stays close to your daily lives,Coca-Cola Bottlers Japan places the first priority on good health at all times and offers products and services of value that meet the needs and preferences of all generations.
As such,our employees themselves must lead an active and healthy lifestyle and be able to enjoy work with a feeling of comfort.
We recognize the responsibility for each employee to proactively maintain good health and to take actions to enhance one's health,and the company and the Health Insurance Association will work in unison to advance various actions for maintaining and promoting health and strive to nurture a corporate climate of "Health as No.1".
※For more details, click here: https://en.ccbji.co.jp/csv/humanrights/health.php