June is "Environment Month", and Coca-Cola Bottlers Japan is carrying out initiatives to promote sustainability
June 01, 2021
Did you know that June 5th of every year is Environment Day, and June is Environment Month?
Environment Day was established to commemorate the United Nations Conference on the Human Environment, which was held in Sweden's capital, Stockholm, on June 5th, 1972. In response to Japan's proposal, the United Nations designated June 5th as "World Environment Day".

In Japan, Environment Day was established by the Basic Environment Law (enacted in 1993), and the entire month of June has been designated as Environment Month since 1991. Throughout Japan, activities are being carried out to deepen people's awareness and understanding of environmental conservation. Reference: The Ministry of the Environment website (Japanese)

At Coca-Cola Bottlers Japan, we are working in partnership with all of the companies in the Coca-Cola System to continue our efforts towards building a sustainable society by being responsible in our use of precious resources like water and other raw materials. Based on SDGs, Japan's Coca-Cola system has established Inclusion, Communities, and Resources as our three sustainability platforms, and within that, we have identified nine key issues that deserve priority. Today, we would like to introduce our initiatives for the key issues of Packaging/PET, Climate Change, and Water under the platform of Resources.
■Packaging/PET
In order to realize the global vision of a "world without waste" as set forth by the Coca-Cola Company, Japan's Coca-Cola System has formulated a 2030 Packaging Vision based on the three central pillars of Design, Collection, and Partners, and is promoting the recycling of plastic resources in Japan.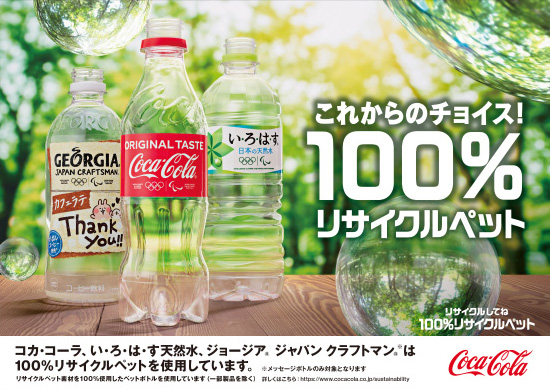 On May 31, we introduced 100% recycled PET bottles for our flagship products, such as Coca-Cola, Coca-Cola Zero Sugar, Coca-Cola Zero Caffeine, and Georgia Japan Craftsman. See here for details (Japanese).
These bottles are a product of our "Bottle-to-Bottle" initiative, in which we collect used PET bottles and make them into new ones to make full use of our resources.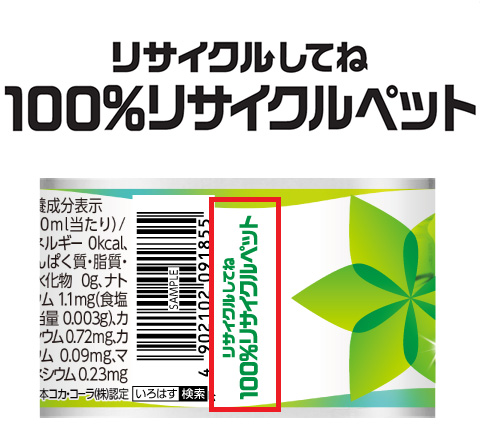 In addition, we added the "Help Us Recycle" logo to the packaging of all recyclable products starting in late February. We have also added a label reading "100% Recycled PET" to containers made of 100% recycled PET resin. making it easier for consumers to choose products with a lower environmental impact. See here for details (Japanese).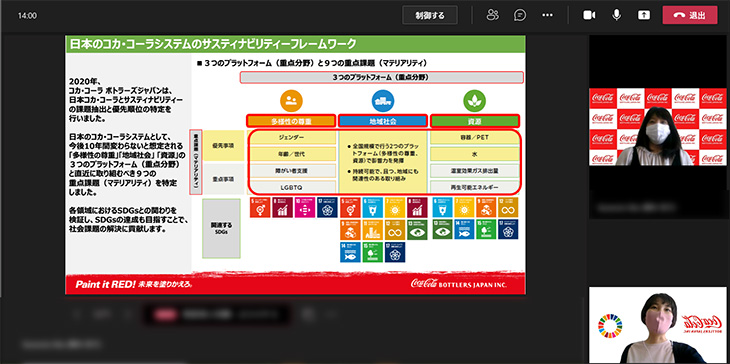 We are also engaged in educational activities aimed at helping many people learn about our efforts, and at deepening their interest and understanding. In recent years, younger generations have become increasingly interested in companies' efforts to achieve sustainable development goals (SDGs). During a recent online seminar for junior high school students in Tokyo, we explained the importance of heatstroke prevention and hydration, and also introduced the Coca-Cola system's environmental initiatives.
We are also putting effort into our internal communications, and the Creating Shared Value (CSV) Promotion Department is working to promote understanding among our employees by sharing information about the environment and other social issues using Yammer, an internal communications tool, and holding regular study sessions. Around 200 employees participated in an online study session held on the topic of the Coca-Cola Company's global vision, "World without Waste."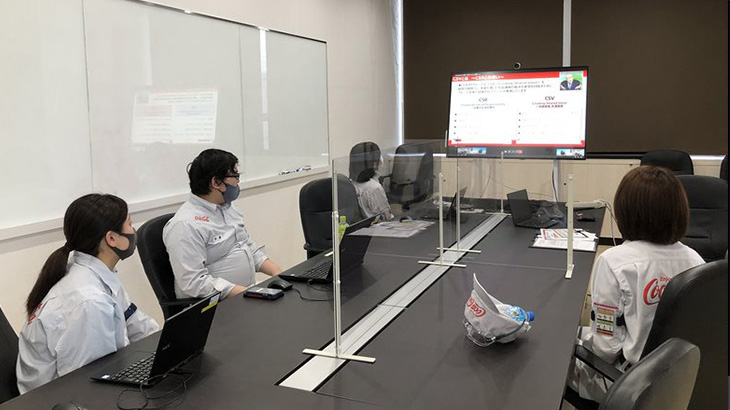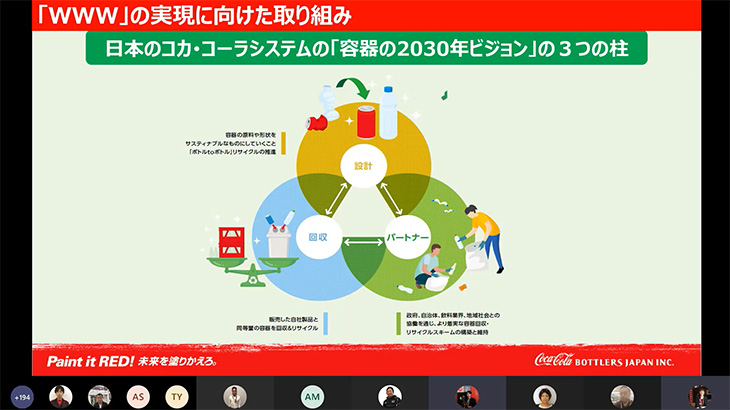 ■Climate Change
As the concentration of greenhouse gases in the atmosphere increases and the absorption of heat increases, the surface temperature of the earth rises. This is one of the major causes of global warming.
In February of 2021, CCBJI began operation of its Saitama Mega Distribution Center, which is one of the largest automated distribution centers in terms of storage and shipping capacity within the Coca-Cola system in Japan. Logistics operations, such as the sorting that had previously been conducted at sales centers, and inventory storage spaces have been consolidated at the Saitama Mega Distribution Center. the We are optimizing its supply chain to resolve a variety of issues, such as reducing their environmental impact.
■Water
Since we engage in business that relies on the indispensable resource of water, we promote water resource conservation with the goals of reducing water use by 30% by 2030, and maintaining a 200% water resource replenishment rate through 2025.
At our plants, we are working to reduce the amount of water used and to reuse the water we do use by installing production lines equipped with the latest technology, and by improving the manufacturing processes and plant equipment by monitoring them on a daily basis.
We hold environmental education programs in various locations in order to raise awareness about the importance of conserving water and preserving nature. Among the Coca-Cola "Learn from the Forest" projects held in 12 of our plants' water source areas in 2019, a total of 421 employees and their family members thinned forest undergrowth, helped plant rice fields, and tried woodworking while learning about the indispensable nature of water resources. (*Note: The event was canceled in 2020 in an effort to prevent the COVID-19 infections.) See here for details.

Choosing products with low environmental impact in our daily lives and separating PET bottles according to the correct collection method are all part of our efforts to care for the global environment.
With "Environment Day" and "Environment Month" as a starting point, why don't we think together about how to act in an environmentally friendly way?
<Efforts to realize value creation with society>
Please see here for our latest CSV Report 2021.