June is "Environment Month." Coca-Cola Bottlers Japan's Initiative for Environment
May 25, 2022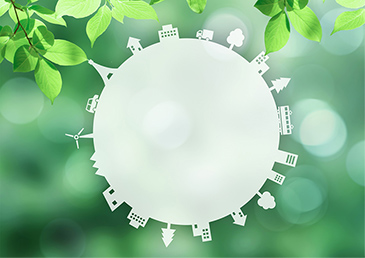 June 5th of every year is Environment Day, and June is Environment Month. These were established with a view to recognizing the importance of environmental conservation and using them as an opportunity to take actions.
At Coca-Cola Bottlers Japan, we are working in partnership with all of the companies in the Coca-Cola System to continue our efforts towards building a sustainable society by being responsible in our use of precious resources like water and other raw materials. In this edition, we would like to introduce our initiatives for the entire system's priority issues, i.e. Packaging/PET, Climate Change, and Water.
■Packaging/PET
The Coca-Cola system in Japan has developed its 2030 Packaging Vision based on the three pillars of Design, Collection, and Partners, and is promoting the recycling of plastic resources in Japan.

In 2021, the Coca-Cola system in Japan achieved 40% utilization of sustainable materials (*1) for PET bottles in its domestic soft drinks business. It uses 100% recycled PET bottles for its 37 products from five brands (Coca-Cola, Georgia, I LOHAS, Hajime, and Bonaqua) sold in Japan (as of February 2022).
It now has 18 labelless products from eight brands. In addition, it has significantly reduced the amount of plastic used per bottle; for example, reducing the weight of Coca-Cola 700 mL PET bottle from 42 g to 27 g starting from the spring of 2021. Through these efforts, the Coca-Cola system is expected to reduce greenhouse gases (GHG) emissions by roughly 26,000 tons and cut down plastics made newly from petroleum-based materials by approximately 29,000 tons each year(*2).
*1 Sustainable materials: a total of recycled PET materials from "bottle-to-bottle" recycling and plant-derived PET materials
*2 A total of target products; 2022 sales forecast estimated by CCJC based on the actual shipment in 2021
In terms of initiatives with Partners, Coca-Cola Bottlers Japan has been working with local governments and other businesses to build a more robust bottle collection and "bottle-to-bottle" recycling scheme.
Currently, the initiatives have been expanded, and used PET bottles have been collected at the stores in Tochigi Prefecture (all areas) and Ibaraki Prefecture.
■Climate change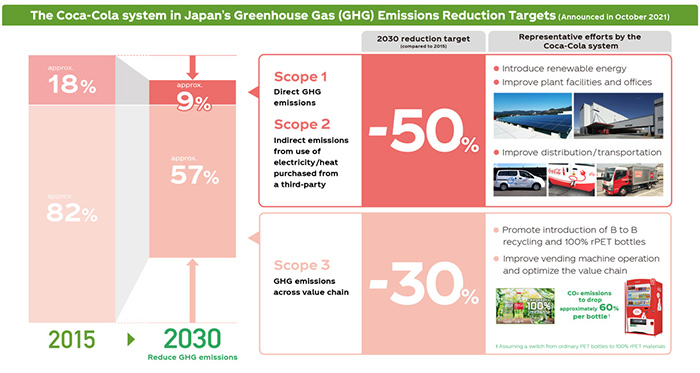 In October 2021, the Coca-Cola system has set targets to reduce greenhouse gas (GHG) emissions across the entire value chain in Japan. The system aims to reduce GHG emissions by 50% in Scopes 1 and 2 and by 30% in Scope 3 by 2030 (compared to 2015 levels, respectively).(News Release)
The "Mega DCs" (Saitama Mega DC and Akashi Mega DC), our automated distribution centers, have been making efforts to improve supply chain efficiency, including consolidation of logistics operations such as sorting which was previously handled at each center and inventory storage space. By doing this, we aim to reduce the amount of fuel used and GHG emissions and have been working on initiatives to reduce CO2 emissions across all areas of our business ranging from procurement, manufacturing, logistics/distribution, and sales.
■Water
As a company that uses irreplaceable "water" for its business operations, we have also laid out goals to "reduce water usage by 30% by 2030" (compared to 2015) and "sustain 200% water source replenishment until 2025" in an effort to promote water resources preservation.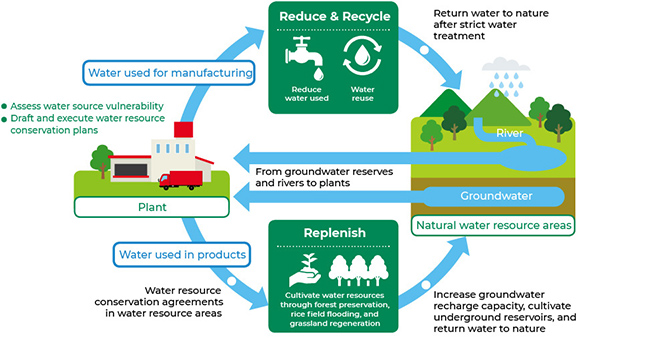 Our plants have introduced production lines with the latest technology, improved their manufacturing processes and plant facilities on a daily basis through monitoring, and worked to reduce water used in the manufacturing process and recycle water used for manufacturing. Furthermore, based on the "Agreement on Tokyo Greenship Action" entered into with the Tokyo Metropolitan Government in April 2022, we have been conducting water source replenishment activities in all water source areas of our 17 plants.(News Release)
Cooperation from all our customers, partner companies, and consumers is essential to drive forward our efforts. Choosing environmentally friendly products, sorting PET bottles according to the proper collection method, and other actions in our daily lives lead to efforts to care for the global environment.