First time in CCBJI! Ceremony for the presentation of companywide awards "CEO MVV AWARD 2021" ~ Which project received the No.1 place? ~
February 24, 2022
In January 2022, an awards ceremony for "CEO MVV AWARD 2021", a companywide awarding program, was held in Coca-Cola Bottlers Japan Group for the first time. The MVV Award, which is the highest recognition awarded under the program, and other awards were presented to the 7 outstanding teams that have been selected from a total of 237 entries (total of 3,300 people). We will share with you the highlights from the awards ceremony that was streamed live.

What is CEO MVV AWARD?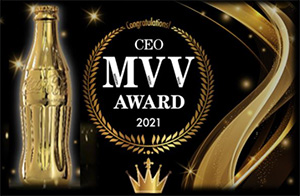 This is an internal awarding program that recognizes the teams that have brought innovation and demonstrated positive impact across the organization by taking on a new challenge that embodies "Business as usual is not an option" and putting into action "Learning", "Agility", "Result-orientation", and "Integrity", which are the 4 elements of the "Values" in our MVV (Mission, Vision, and Values).
Entries were accepted from projects, and the program offered 7 awards in total. The MVV Award, which is the highest recognition, as well as the Mission Award, Vision Award, and Value Awards (Learning Award, Agility Award, Result-orientation Award, and Integrity Award) were offered to recognize the outstanding accomplishments. *Click here to see our MVV.
Until last year, we had an awarding program in Sales, Manufacturing, Logistics and HR, etc. separately in each department. However, the awards were targeted towards all projects across CCBJI Group this year. All award entrants must be working in CCBJI Group, and can have any employment status as long as they are in a team of 3 or more people. We have received entries from many project teams comprised of multiple departments and sections.
Live streaming of the awards ceremony for all employees
The venue was set up with COVID-19 precautions in place. One representative from each of the 7 finalist teams attended the event, looking a little nervous as they waited for the award presentation by the management members.

Which team will win the highest MVV award?!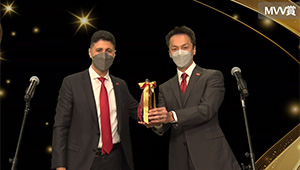 The first MVV went to Manufacturing Division in SMC, which has successfully improved production line efficiency. It was awarded in recognition of their excellent contributions in minimizing costs and stabilizing product supply. President Calin handed over a trophy shaped in the form of a "Coca-Cola" contour bottle to Aoki-san who attended the awards ceremony as the representative of his team.
Manufacturing Division is working on the initiative aimed at achieving high-efficiency plant operations to manufacture a wide variety of products and optimizing non-operating hours to strengthen the highly-flexible product supply system. They have expanded manufacturing capacity by making the maximum use of the assets that are currently available despite the constraints on management resources.

Comment from Aoki-san, representative of the winning team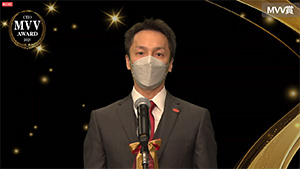 We are very pleased to see our efforts rewarded with this recognition. We have built small improvements one by one in the manufacturing field. I would like to thank all the people who have worked with us on the challenges that lay in front of us. I would also like to thank the supervisors and plant managers who supported us in making improvements and changes in the field, as well as all the companies and overseas bottlers who helped us from outside the company.
The Mission Award, Vision Award, and Value Awards went to General Affairs Division that provided a safe and secure working environment through the early implementation of COVID-19 vaccinations in the workplace, and Service Delivery Process & Solutions Division that contributed to the normalization of the accounts receivable and payable processing by troubleshooting the EPR system failures.

To push our transformation forward and accelerate the speed of our growth across the CCBJI group, each of us needs to deepen our understanding of MVV and put the core values into practice while engaging in our day-to-day activities. We will continue to come up with great ideas with our team members to approach our day-to-day activities differently with a higher awareness of putting these core Values into practice, and achieve our Mission of "Delivering happy moments to everyone while creating value".