This is a 5-day training program, designed to pursue the following theme: "How would you perceive and address the social issues if you were the regional visionary leader with a mission to develop a sustainable local community in that region?" On the last day, the teams formed by the trainees are expected to respectively present to the visionary leaders what they have discussed and organized as their concrete ideas to address the identified social issues.
On the first day, the trainees attended a briefing session where the visionary leaders, Mitsuhiro Sakai-san from Noto Food Co., Ltd. (Nanao, Ishikawa Prefecture), Kaichiro Kazuma-san from Kazuma Breweries Co., Ltd. (Noto, Ishikawa Prefecture) and Hisao Hagiwara-san from IYOSUI Co., Ltd. (Uwajima, Ehime Prefecture) explained about the local issues they are facing in their respective regions and how they have been addressing them so far.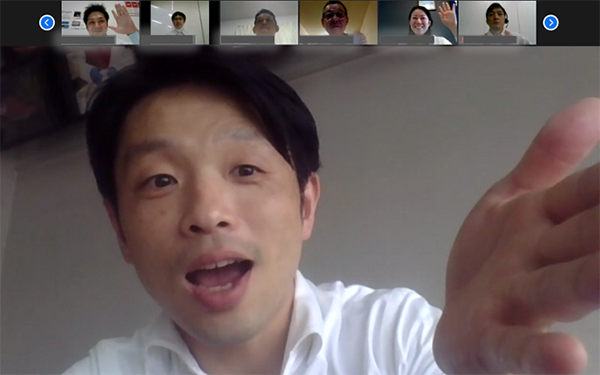 Hisao Hagiwara-san, IYOSUI Co., Ltd. (Uwajima, Ehime Prefecture)
The visionary leaders selected for this program are all in the same age group as our employees enrolled in CCUJⅡcourse. Through their different lines of business, they are working enthusiastically to address the different region-specific issues they are confronted with, which include depopulation and abandoned farmland. The trainees learned that these aspirational visionary leaders have different set of values and perspectives toward work, and were greatly stimulated by the strong leadership they exhibit to their respective organizations toward the direction they firmly believe in.
After being divided in separate teams, the trainees began discussing about the local issues faced by the regional visionary leaders with their team mates. Since the employees and students had different daily time schedules, they made arrangements among themselves to find time to get together for team meetings to identify the root causes and essential elements of the local issues, analyze the as-is state and prepare for the intermediate presentation they had to give 10 days later.
On the day of the intermediate presentation, they revisited the contents of the previous meetings, and shared the progress and direction they were heading team by team based on what they have captured so far as potential root causes and essential elements of the local issues o that they could sort out their key points more clearly in an organized manner. There were trainees who voiced their positive impression about this intermediate presentation as being a great occasion to broaden their perspectives by hearing how other teams were perceiving the issues and what kind of ideas they have been coming up with, which differed in angle and approach from theirs.
The stimulus they received from one another apparently has been helping them refine the intermediate presentation and prepare better for the final team presentation scheduled on the last day of this training program.